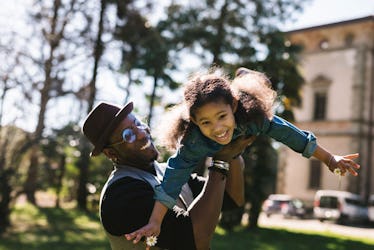 18 Father's Day Captions, So You Can Celebrate Your Favorite Guy
It's about that time again to dedicate an entire day to one of the most genuine guys you know. As much as you should be giving your dad kudos year-round, Father's Day is perfect for snapping those sweet daddy-daughter pics. If you really want to get all the feels flowing, pair one of the pics you've recently taken with Dad, with one of your fave throwbacks, and complete your post with any of these Father's Day 2018 captions.
Your dad has been your rock since day one, and you'll need a caption that describes your relationship. Are you guys always cracking jokes and laughing until it hurts? You might want to go the punny route and make the caption something he'll inevitably smile over.
Maybe your dad has truly been your best friend and confidant. You'll want to choose a sentimental quote if that's the case. Your caption needs to express how grateful you are to have such an honest and wise person in your life, who also gave you life.
You know how you feel about your dad better than anyone else. It may not happen instantly, but you'll know when a caption totally sounds like something you'd say to your pop. The day is almost here, so to give you a head start, these 18 captions should guide you in the right direction.
1. "The quality of a father can be seen in the goals, dreams and aspirations he sets not only for himself, but for his family." — Reed Markham
2. "My father gave me the greatest gift anyone could give another person, he believed in me." ― Jim Valvano
3. "Some people don't believe in heroes, but they haven't met my dad." — Unknown
4. "My Dad gave me wings to my dreams." - Merlin Thomas
5. "Dads hold our hands for a little while, but hold our hearts forever." — Unknown
6. "The love between a father and a daughter is forever." — Unknown
7. "To a father growing old nothing is dearer than a daughter." — Euripides
8. "Dad: I may have found my prince, but you will always be my king." — Unknown
9. "One father is more than a hundred schoolmasters." — George Herbert
10. "It is a wise father that knows his own child." — William Shakespeare
11. "It is a father's job to love his daughter in the way she needs to be loved." ― Karin Slaughter
12. "Anyone can be a father, but it takes someone special to be a dad."— Unknown
13. "Being a father means you have to think fast on your feet. You must be judicious, wise, brave, tender, and willing to put on a frilly hat and sit down to a pretend tea party." — Matthew Buckley
14. "A father is always making his baby into a little woman. And when she is a woman he turns her back again." — Enid Bagnold
15. "A child looks up at the stars and wonders. Great fathers put a child on his shoulders and helps them to grab a star." — Reed Markham
16. "You can tell what was the best year of your father's life, because they seem to freeze that clothing style and ride it out." — Jerry Seinfeld
17. "Being a good dad starts with presence, not presents." — Unknown
18. "Nothing makes me feel stronger than knowing I have a dad who's got my back." — Unknown
Try to make your dad feel as special as possible this Father's Day. You are, after all, the reason he gets to celebrate it.