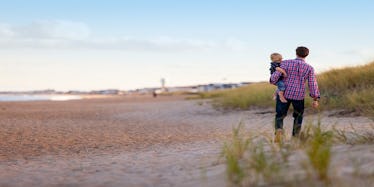 15 Instagram Captions To Make Your Post For Dad Extra Sweet On Father's Day
Danielle Maccines/ Unsplash
A picture is worth a thousand words, but we are still pressed to choose the perfect caption for our social media posts.
Father's Day is no exception for Dad, and while we may pull out the most adorable archived photo, it needs to be paired with just the right words.
I mean, we can't help the fact that we're suckers for presentation and portraying emotions.
It's challenging to create any combination of words to embody the vast qualities of your dad. He's freaking amazing, and words probably could never do justice to that.
But, because he was around when you could barely put together a sentence without drooling, almost anything you have to say to him will be cherished.
Dads don't ask for much, and they're usually the ones spewing words of wisdom, sometimes without even noticing that they're doing it.
So, to show Dad the lessons he taught didn't fall on dormant ears, try sharing one of these adorable, insightful quotes with your Father's Day picture.
1. "Dad: A son's first hero, a daughter's first love." — Unknown
2. "I may find my prince someday, but my dad will always by my king." — Unknown
3. "I try to live my life like my father lives his. He always takes care of everyone else first. He won't even start eating until he's sure everyone else in the family has started eating. Another thing: My dad never judges me by whether I win or lose." -- Ben Roethlisberger
4. "My father didn't tell me how to live; he lived and let me watch him do it." --Clarence Budington Kelland
5. "To the world you are a dad, to our family you are the world." -- Unknown
6. "To her, the name of father was another name for love." -- Fanny Fern, Fresh Leaves
7. "A father is neither an anchor to hold us back nor a sail to take us there, but a guiding light whose love shows us the way." -- Unknown
8. "A father is someone you look up to no matter how tall you grow." -- Unknown
9. "Any man can be a father, but it takes someone special to be a dad." -- Anne Geddes
10. "I love the way my father raised his daughters like bones; teaching them that it's OK to break, and that the strength is in the healing." -- Jasmine Vaughn-Hall
11. "The quality of a father can be seen in the goals, dreams and aspirations he sets not only for himself, but for his family." -- Reed Markham
12. "Some people don't believe in heroes, but they haven't met my dad." -- Unknown
13. "A father holds his daughter's hand for a short while, but he holds her heart forever." -- Unknown
14. "It was my father who taught me to value myself. He told me that I was uncommonly beautiful and that I was the most precious thing in his life." -- Dawn French
15. "I cannot think of any need in childhood as strong as the need for a father's protection." -- Sigmund Freud
There are endless options to express in words how you feel about your Dad. Yet, all of these words will lead you both to the conclusion that he is one of a kind.