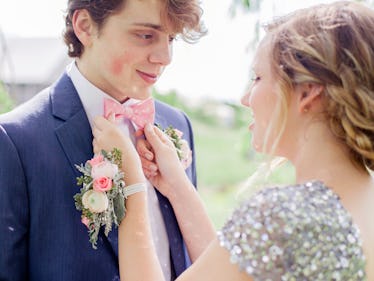 18 Instagram Captions For That Hot Photo Of You & Your Date At Spring Formal
Here's an embarrassing fact about me: coming up with Instagram captions triggers my anxiety. Before you @ me — I know that captions are unimportant, I know that anxiety is a real struggle, and I know that worrying about my Instagram posts makes me a bit of a narcissist. But when you filter a photo just right, and can't think of a witty caption for it, it's an undeniable bummer. With formal season just around the corner, why not get ahead of the game by thinking up some spring formal Instagram captions before the night of?
I'll admit that this is probably me overthinking spring formals, but I'm all about planning things ahead of time. In case you're thinking, "But I have no idea what my picture's background will be, which is essential to making a stellar pun!" Fair point, and I totally hear you. The best Instagram captions definitely mention specifics about the actual photo they are titling. Because that is a truth of Instagram, you can hang on to this article in your bookmarks in case any of the below ends up applying to your particular shot. Or if you're pretty certain you'll end up with a cute date photo in your apartment's garden, pick your favorite ahead of time. It's 2018, we all overthink our Instagrams, so go ahead and read these ideas guilt free:
1. "Ballin'"
This classic caption works particularly well if your formal is referred to as a "ball" of some sort.
2. "We're cuter in person."
Because self-deprecating captions are the best captions.
3. "Nobody really likes us except for us."
This Drake lyric feels right for a couples' pic, especially if you both are smiling at each other in that grossly-in-love way.
4. "Adult Prom."
A simple truth.
5. "Trying on our Coachella Day 1 looks."
This is a good caption for when your dresses/tuxes are incredibly over the top, midriff baring, or neon hued.
6. "Doing our best Kimye."
Also great for when your outfits are extreme... or resemble Yeezy Season 6 athleisure?
7. "Which one of us looks better? Vote in comments."
I love snark, and hopefully your friends will understand that you're joking.
8. "Before."
Suggesting that after formal, you'll look a bit... different. You can also include an "after" photo in an album swipe if you're into that.
9. "Tell us we look good together."
This needs to be delivered by someone with a generally sassy Insta-tone, but it feels like something Jenny Mollen would caption one of her Instagrams with and I love it. (If you don't follow her Instagram, you're missing out.)
10. "T. G. I. Formal"
Always love a play on words (or acronyms) and if your formal falls on a Friday, this is even better.
11. "Two dates, one million drinks."
Works well if you're both holding adult beverages.
12. "What's that jacket, Margiela?"
A Kanye lyric. Yes I love Kanye. Yes this works best if you or your date is wearing an awesome jacket of some sort.
13. "Put on your red shoes and dance the blues."
A David Bowie lyric that works if you are wearing red shoes.
14. "Out here drippin' in finesse"
A Cardi B and Bruno Mars lyric that's current is never a bad idea.
15. "We both still have Tinder on our phones."
This is very funny to me, but if there's actual contention between you and your date about committing, maybe skip this one.
16. "I got dressed up and [John] got drunk."
Obviously, insert your date's name there. Probably run this one by your date prior to posting...
17. "Happy March 20!"
Because you got all dressed up on a random day, right?!