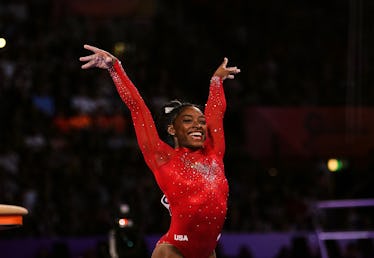 16 Gymnastics Instagram Accounts To Follow After Watching 'Athlete A'
NurPhoto/NurPhoto/Getty Images
Athlete A is introducing many people to the world of women's gymnastics, beyond what they see every four years at the Olympics. While the documentary exposed much of the ugly side of the gymnastics world, and all of the work that needs to be done to correct it, watching the sport in action will remind you why so many athletes fell in love with it in the first place. So, here are 16 gymnastics Instagram accounts to follow if you want to add some magic to your feed.
Some of the accounts are elite and NCAA athletes at the top of the sport today. Other accounts worthy of a follow are of the notable collegiate programs that dominate the national championships year after year. On the different profiles, you'll see astounding videos of competitive routines, snapshots from practice in the gym, and candids of these athletes simply living their lives.
Right now, the spotlight is shining on women's gymnastics, primarily due to the popularity of Athlete A, but of course, there are plenty of stars in the world of men's gymnastics who are worth following as well. A good place to start would be Trevor Howard, Sam Mikulak, Akash Modi, Yul Moldauer, and Shane Wiskus — just a few of the favorites to compete for the U.S. in the Tokyo Olympics next year.
Below, check out the leaders in women's gymnastics who will make your IG feed both more beautiful and more badass: