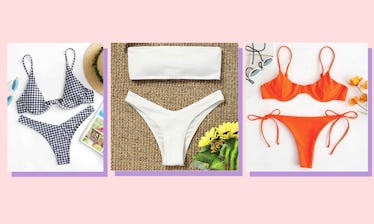 This Summer's Most Popular Bikini Styles Are Cheap As Hell On Amazon Right Now
Amazon / Elite Daily
A lot of swimsuit trends come and go, but barely-there bikinis have been a swimwear staple for decades, and right now they're having a serious moment. From high-cut bottoms à la the 80s and 90s to string bikinis that throw back to the early oughts to thong styles that have long been popular on the beaches of Brazil — bikinis that show everything are making waves at across America (and on Amazon).
It's true — the internet's favorite one-stop shop for gadgets and groceries also carries the skimpy swimsuits that are ubiquitous this summer. And despite there not being much to these itty-bitty bikinis, there is a surprising amount of diversity when it comes to styles. Sweet gingham suits, strappy pieces with BDSM vibes, and retro cuts that drip with cool-girl appeal — there is a suit to fit every aesthetic. Plus — chalk it up to the minimal amount of fabric — these bikinis are cheap as hell so you can stock up on different colors and cuts.
Skeptical about the fit? Shopping online can be tricky since you can't actually try on the suits, but here is a pro tip: Since all these suits are sourced from Amazon, you can check out the dozens of users who snapped pictures wearing the suits and see for yourself how each looks IRL.