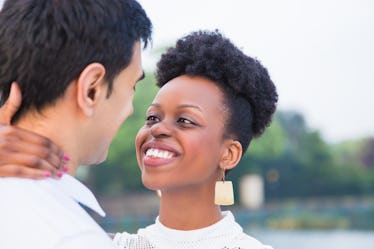 15 Things To Propose With Other Than Rings That Are Just As Special
Shutterstock
So, you've made the decision to propose to your partner. Congratulations! This is wonderfully exciting. As the iconic quote from When Harry Met Sally goes, "When you realize you want to spend the rest of your life with somebody, you want the rest of your life to start as soon as possible." Traditionally, that means getting down on one knee with a diamond ring in hand to mark your engagement. But plenty of items other than rings will work for a proposal, and they can capture the magnitude of your love in a unique and authentic way.
There are many reasons why someone may choose not to propose with a traditional engagement ring. First of all, diamonds are expensive. Brides magazine's 2018 American Wedding Survey found that the average cost of an engagement ring was $7,829 — a number that has steadily increased year after year. Not to mention, some couples just don't love jewelry or aren't into prescribed cultural norms. If you're not feeling a ring for whatever reason, you can still make your proposal incredibly personal and special. Choose an item that represents your relationship in some way, whether it conjures a memory or sets the stage for your future together.
Here are some ideas that might work for your proposal.