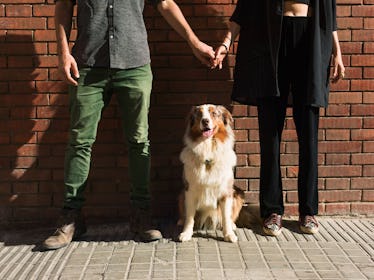 5 Things You Need To Know About Your SO Before Getting A Furry Friend Together
IMO, animals are one of the absolute greatest things on this planet. In fact, I'm that person who finds the one dog or cat at a house party and spends the evening telling them they're the prettiest boy or girl in the whole world. (I'm super fun at parties — feel free to invite me over!) If you're in a relationship and you're an animal lover, you might be considering adopting a pet with your partner. While that's amazing and yes — adopt don't shop — there are things to know before getting a pet together that can help you make this super important decision.
While wanting to get a pet together can be a great sign of committment in your relationship, I spoke to Maria Sullivan, dating expert and VP of Dating.com, about what to consider before adopting a pet with your significant other. Sullivan says, "It is important to get a temperature check on your relationship, and align on what the future looks like for you and your partner. For example, you don't want to get a pet with someone who is not committed and fully on board with the idea — or is having doubts about your relationship." While getting a furry friend seems like a lot of fun and could provide endless Insta-worthy moments, take a moment to consider these five things before you take the pet plunge!