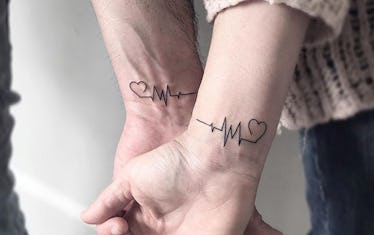 10 Cute Couples Tattoo Ideas That Don't Have Initials In Them, Just In Case
Relationships don't always last forever, but tattoos certainly do. If you and bae can't wait to seal your love with some matching ink, there are so many creative ways to commemorate your 'ship. But going all in and getting each other's names or initials might be risky if the relationship doesn't go the distance. Luckily, whether you want a bold design or something a bit more subtle, there are plenty of couples tattoos that don't have initials you can base yours off of. Naturally, there will always be naysayers who can't get behind the idea of having matching tattoos with a partner. But if you and your SO are both on board, follow your bliss.
Thankfully, couples tattoos aren't limited to just hearts or the date of your anniversary in Roman numerals. Any shared memory, hobby, or passion can be transformed into a cool design that'll always make you think of your partner. As with any tattoo, the most important step is finding a tattoo artist whose work you're both excited about, and doing plenty of research. Your tattoo artist should be working at a credible shop that follows the proper health and safety regulations. Also, it's important that you and your partner can decide on a design you both love. It'll be on your body forever! Depending on how complex your tattoo idea is, it might take some ongoing discussion between you and the artist to fine-tune the final design, and that's OK. Here are some fun design ideas inspired by couples tattoos done right.