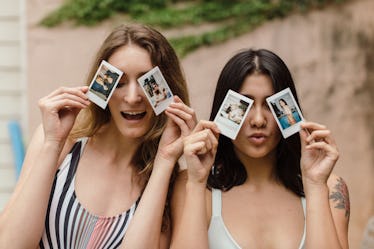 15 Summer Instagram Challenges To Complete With Your Person For The Best Season Yet
Pretty soon, summer will be here in all its warm weather glory. You and your best friend plan on taking advantage of each passing day by going to the beach, eating ice cream, and wearing your neon sunnies all day long. With so much fun to be had on the horizon, documenting it on the 'Gram is a must. If you're looking for more photo opportunities, you and your bestie might want to consider this list of summer Instagram challenges to complete by the end of the season.
You already know that summer will speed by like it always does, which is why it's necessary for you to capture the moments you can. An Instagram challenge not only helps you get those fun times snapped, but gives you and your bestie something to do every day. When you're feeling bored AF from your usual summer go-to's, you can always break out your summer Insta challenge list for inspiration.
If you're still wondering what a summer Instagram challenge is, well, let me set the record straight. All you need to do is add these 15 challenges to your summer bucket list. Each one is a picture you'll want to snap and post on Instagram. Don't forget to caption each one with your own punny hashtag, or simply, #BestSummerEver. Then, you can look back on all the fun you had, and know that you truly did have the most epic time.