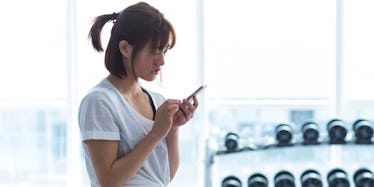 15 Memes About Going To The Gym In January, Because TBH, We're All Walking Cliches
With the new year quickly approaching, it's officially the season of aggressively packed weight rooms and constantly crowded cardio machines. But even though the gym becomes a bit of a hassle to navigate come Jan. 1, many people stay strong and stick to their resolutions to get healthier and make those #gains. Still, it's that time of year now where we have the pleasure of enjoying all the many memes about going to the gym in January floating around on the internet. TBH, as much as I hate to admit it, these memes are as funny as they are relatable.
Seriously though, the amount of people who flock to the gym during the first couple of months of the new year makes me low-key worry that the building capacity is going to be exceeded and we're all going to casually suffocate.
I do, however, have loads of respect for everyone who is unraveling themselves from cozy comforter blanket burritos to brave the frigid outdoor temperatures for the sheer sake of hitting the weight room. That's dedication, fam.
So, whether you're a seasoned fitness fanatic and are simply continuing the grind come 2018, or you're honoring one of your new year's resolutions with a brand new workout routine, these memes about going to the gym during the first month of the year will feel like they're speaking straight to your soul.