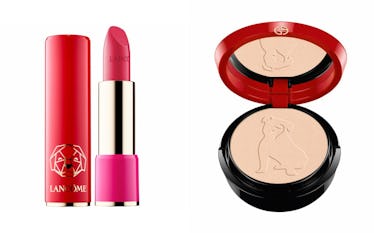 15 "Year Of The Dog" Beauty Products That Will Melt Any Actual Doggo Lover
Lancôme/Giorgio Armani
Much like we celebrate the New Year here in the US, Lunar New Year is a cause for major celebration in Asia. And lucky for us, it comes with a slew of new Lunar New Year beauty products that bring old-world charm to our vanities.
However, those in observance of Chinese New Year have a list of traditions and superstitions that maybe many have never heard of. Coming from a girl whose only new-year's tradition is cleaning out her makeup bag, I am fascinated and awed the rituals associated with such and important holiday. And to my surprise, some of these rituals even effect my beauty routine!
It's a popular belief in southern China that pomelo leaves can get you super clean from the outside-in, according to a piece published on NPR. To cast away evil spirits and bring good health, it is tradition to boil the pomelo leaves and rinse your body with the water or add it to a bath.
Additionally, the Chinese word for "hair" is pronounced similarly (if not exactly the same) as the word for "fortune." Because of this, it is a common superstition that washing your hair on the first day of the new year will rinse away your good luck for an entire next 12 months. And the bad luck doesn't stop there when it comes to your hair. While I know so many beauty junkies that go and get a fresh cut on New Year's Eve, chopping your hair on Lunar New Year, in Chinese culture, runs you the risk of cutting your own life short, according to a piece published on the Chinese Lunar New Year on CNN.
If the ancient Chinese tradition isn't rooted in your heritage, there are still ways to honor Chinese culture and infuse your year (and your beauty routine) with good fortune. Shop the prettiest limited-edition Chinese New Year beauty products that get you in the mood to celebrate the Year of the Dog. They're almost too cute to use... almost!
GlamGlow Gravitymud Lunar New Year Exclusive, $59, Glam Glow
I'm obsessed with GlamGlow's Gravitymud because it provides an instant face lift (as much as possible), and peels off in one fell swoop. Glam Glow's take on the Lunar New Year version is just as satisfying, but boasts pretty limited-edition packaging.
Givenchy Le Rouge Semi Matte Lipstick, Chinese New Year Limited Edition, $40, Neiman Marcus
This red lipstick has the tiniest hint of blue in it, which is super genius because it makes your teeth look whiter. Not only will it look incredible on your face, this gold-and-red leather-covered bullet looks pretty inside your clutch and makes touchups just that much more fabulous.
Nudestix Chinese New Year Kit, $24, Nudestix
My favorite trick for taking my makeup look from day to night is to swap a nude lipstick for one in a poppy red color. Drop this limited-edition tin in your bag and you'll be ready for a makeup swap at all times.
Yves Saint Laurent Beaute Limited Edition 2018 Chinese New Year Palette, $47, Neiman Marcus
I'm a sucker for gorgeous packaging and this gold compact embellished with red accents is calling my name.
Jurlique Limited Edition Activating Water Essence, $38, Jurlique
If you haven't worked an essence into your current skincare routine already, let this beautiful limited-edition packaging be more inspiration to kick your regime up a notch.
Dyson Supersonic In Red, $399, QVC
This blow-dryer will cost you a pretty penny, so if the original pink color wasn't your style, opt for the new fiery red option. After all, you work hard for that money, so why not invest in something that dries your hair faster and aesthetically suits you?
NCLA The Year of the Dog Nail Wraps, $16, Shop ncLA
Give your nails a festive mani without having to spend hours in a salon. Slap these stickers on and make your way to the celebration.
Etude House Lucky Puppy Any Cushion Case, $8, Etude House
Accrding to the Chinese zodiac, 2018 is the year of the dog, but isn't it always about cute puppies? How freaking adorable are these compact cases?
Giorgio Armani Limited Edition Chinese New Year Highlighting Palette, $75, Neiman Marcus
Speaking of dogs, this Giorgio Armani palette has the silhouette of a dog imprinted in the powder and I'm screaming!
Givenchy Chinese New Year Prisme Libre, $60, Sephora
This color-correcting loose powder will work wonders on your face. On the other hand, this Givenchy packaging will work wonders for your spirit.
Lancome L'Absolu Rouge Lunar New Year 2018, $32, Sephora
More dogs!
MAC Lunar New Year Lipstick, $17, Mac Cosmetics
I can almost smell cherry blossoms when I look at this ombre-colored lipstick bullet.
SK-II Limited Edition Lunar New Year Facial Treatment Essence, $229, Macy's
This is definitely a luxury product, but red at Chinese New Year is believed to bring you good fortune. So, go ahead, treat yo' self.
Estée Lauder Year of the Dog Powder Compact, $150, Saks Fifth Avenue
Even more dogs! This gold and rhinestone-studded compact will bring you joy for years to come.
Harrods Chinese Year of the Dog Cosmetic Case 2018, $26, Harrods
Whether you update your beauty routine in 2018 or not, having a festive bag to carry all the essentials will keep you looking your best until next year's year of the pig. (I can't wait for all that hog-inspired merch, either.)