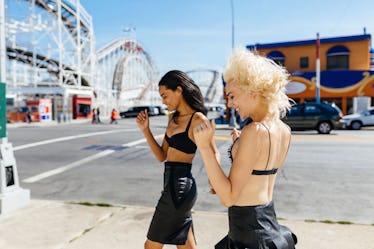 15 Last-Minute Travel Promises To Make With Your Friends Before Summer's Over
I know summer is going by a lot faster than you wanted, but thankfully, traveling is a year-round affair if you're dedicated to feeding your wanderlust. Throughout the season, you and your friends likely had more time to get around to seeing each other, but that doesn't mean the rest of the year has to be spent waiting for the warm weather to return. It's time to exchange last-minute travel promises to make with your friends before summer's over, so that you have some getaways to look forward to throughout the year.
Whether these are your high school friends or college friends, you know how busy life can get outside of summer. Investing this time in each other will be so worth it, and you know any time you guys get together, no matter the season, it's always super fun. These trips can be big or small; the point is that you guys are doing even the smallest bit of traveling with each other.
Are some of you in school or do you live in completely different cities? Both of those situations are prime opportunities for weekend trips. It sucks that summer is leaving all of us once again, but as long as you and your friends make these 15 travel promises together, it won't matter that summer is only a small portion of the year.