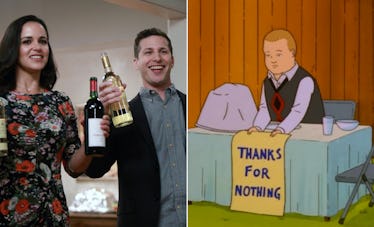 15 Hulu Thanksgiving TV Episodes To Watch After Dessert's Been Served
Fox
It is finally almost Thanksgiving, which obviously means one very important thing: picking out what to watch after you finish stuffing your face with turkey and mashed potatoes. Since your whole family is going to be dealing with the same food coma, the best way to relax and bond is to turn on some special Thankgiving-themed episodes of your favorite TV shows. And Hulu is chock-full of Turkey Day delights. Use this list of Hulu Thanksgiving TV episodes to pick the perfect post-turkey TV marathon.
1. Boy Meets World, Season 4 Episode 10: "Turkey Day"
Leave it to the king of heartfelt coming-of-age dramas to have one of the best Thanksgiving episodes there is. In "Turkey Day," Cory and Shawn attempt to bring their families together for a joint Thanksgiving, but this makes both sets of parents uncomfortable due to their visibly different socioeconomic classes.
2. Top Chef, Season 12 Episode 6: "The First Thanksgiving"
Thanksgiving is all about food, so what better to watch after your feast than some more food? Hulu has you covered with Top Chef, which actually has multiple Thanksgiving episodes. One standout, though, would be Season 12's "The First Thanksgiving," in which the competing chefs must prepare a Thanksgiving feast using only cooking methods and ingredients that would have been found in the 1600s.
3. King of the Hill, Season 4 Episode 7: "Happy Hank's Giving"
King of the Hill was just recently added to Hulu, and it is just in time because the animated series is actually known for including multiple Thanksgiving episodes. Probably the best one is "Happy Hank's Giving," in which the Hill family and their friends try to salvage their Thanksgiving while stranded in an airport.
4. The O.C., Season 1 Episode 11: "The Homecoming"
When it comes to holiday episodes, The O.C. is king. Not only did Seth Cohen give us Chrismukkah, but he also embodied the spirit of Turkey Day in the show's Season 1 Thanksgiving episode "The Homecoming." In the episode, Kirsten Cohen ends up burning the turkey and Seth's scheme to spend the holiday with both girls he's interested in ends with both Summer and Anna busting him.
5. Parenthood, Season 2 Episode 10: "Happy Thanksgiving"
A big family drama like Parenthood is built for Thanksgiving, and the Bravermans did not disappoint with their tumultuous holiday episode "Happy Thanksgiving." The episode perfectly captures the tension that can sometimes arise when a big family gets together for the holidays... especially when your sister is dating your jerky boss and he shows up for dinner. Yikes.
6. Brooklyn Nine-Nine, Season 1 Episode 10: "Thanksgiving"
Cop sitcom Brooklyn Nine-Nine is all about the importance of your friends as the chosen family of your life, and that ideal is never more clear than in its first-season Thanksgiving episode. Although Jake Peralta hates Thanksgiving because his parents were never around for it, he ends up deciding to show up to the precinct's big Thanksgiving dinner... which Amy had nearly ruined with her questionable cooking.
7. Bob's Burgers, Season 3 Episode 5: "An Indecent Thanksgiving Proposal"
Bob's Burgers is another show that has a bunch of Thanksgiving episodes, but the first one is always a classic. The episode features the Belcher family making a Thanksgiving dinner for their landlord, but the most memorable part is Linda finally giving Thanksgiving its own official song.
8. Buffy the Vampire Slayer, Season 4 Episode 8: "Pangs"
For a more serious and action-packed Turkey Day watch, look no further than Buffy's sole Thanksgiving episode, "Pangs." The episode drudges up the holiday's controversial past, as the spirits of Native American warriors begin to attack Buffy and her crew. It all ends with the Scooby Gang sitting down for a particularly revelatory Thanksgiving dinner.
9. Malcolm in the Middle, Season 5 Episode 4: "Thanksgiving"
There is just no family quite like Malcolm's, and their Thanksgivings are just as chaotic as they are. In the sitcom's Thanksgiving episode, Malcolm ditches his family's meal for a party with the cool kids, while Reese puts his uncanny ability to cook to the ultimate test by creating a fancy Thanksgiving dinner for everyone.
10. Fresh Off the Boat, Season 2 Episode 8: "Huangsgiving"
Fresh Off the Boat has a few Thanksgiving episodes, but its first one really hits the nail on the head when it comes to the family tensions that often arise during the holidays. Jessica Huang has to rush to get a perfect Thanksgiving dinner ready when her competitive sister stops by for the holiday, but everything keeps going wrong.
11. Seinfeld, Season 6 Episode 8: "The Mom and Pop Store"
Of course Seinfeld has one of the wildest Thanksgiving episodes ever. The iconic sitcom's Turkey Day episode includes everything from awkward cowboy boots, a loud Dixieland concert, the wrong Jon Voight's car, a popped Thanksgiving parade balloon, and Bryan Cranston. What more could you ask for?
12. The Mindy Project, Season 1 Episode 6: "Thanksgiving"
The Mindy Project evolved a lot throughout its six seasons, and that makes revisiting its first-season Thanksgiving episode such a treat. The episode sees Mindy and Morgan teaming up to cook a Thanksgiving dinner, only to reconnect Mindy with her former blind date Dennis (Ed Helms).
13. Happy Endings, Season 3 Episode 4: "More Like Stanksgiving"
Sadly, Happy Endings was gone too soon with only three seasons, but the cult beloved sitcom managed to deliver some of the most outrageous holiday episodes before ending. It's Thanksgiving episode has the whole group reliving how they met on MTV's The Real World, while Dave is forced to undergo modern interpretations of the plight of the Native Americans after discovering he is one-sixteenth Navajo.
14. Will & Grace, Season 2 Episode 7: "Homo for the Holidays"
You can always count on Will & Grace to put its unique spin on any topic, including Thanksgiving. In its first Thanksgiving episode, Will, Grace, Jack, and Karen plan a Thanksgiving dinner with Jack's mom, but are later surprised to find out that Jack's mom does not know her son is gay.
15. Community, Season 4 Episode 5: "Cooperative Escapism in Familial Relations"
Community loves to mess around with genre, so for its Thanksgiving episode, the cult sitcom chose to portray hiding from unwanted conversations with relatives as if it were The Shawshank Redemption. While Pierce, Annie, Troy, and Abed attempt to hide out in Shirley's garage throughout her awkward Thanksgiving dinner, Jeff has a tense reunion with his father.
All of these Thanksgiving episodes and more are available to stream on Hulu.