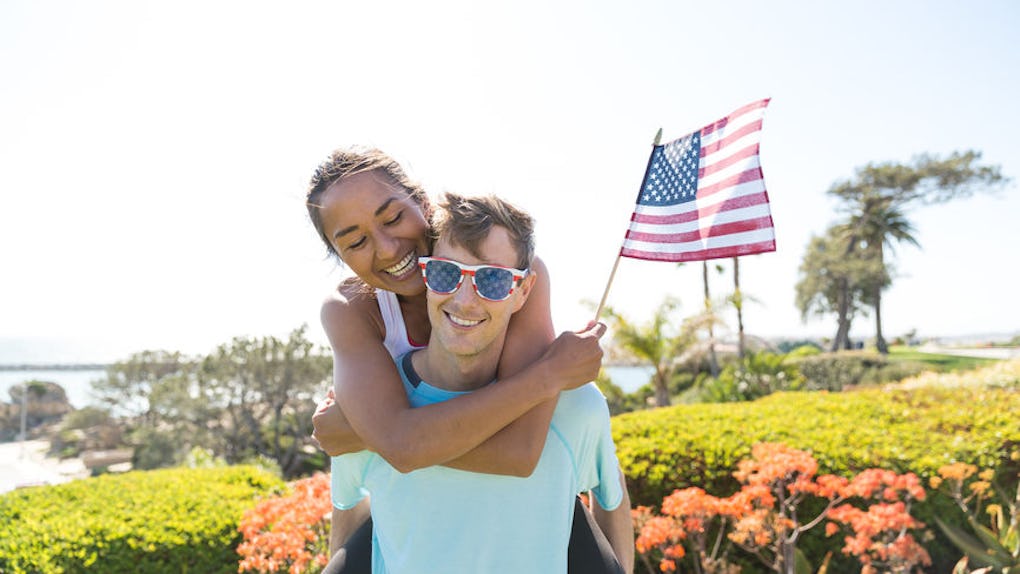 STOCKSY / RX CREATIVE
15 Fourth Of July Instagram Captions For Photos Of You & Your Partner
I love the Fourth of July more than I love America. Totally kidding, America. I love you, too. But what I really love about both America and the Fourth of July (you know, aside from those unalienable rights to freedom) are the fireworks. Fireworks make me giddy. They make me want to eat a hot dog and sip a light beer. They also make me want to fall in love. If you are celebrating the holiday with your cutie this year, you'll need to have some Fourth of July Instagram captions on-hand. (Because let's be real: Latergrams get fewer likes.)
I fancy a good pun, especially on a holiday. I also think the best couples' Instagram captions in general have a certain sense of humor about them. I personally prefer to stay away from aggressive declarations of my love of boyfriend or country like "Love my man like I love my country." But then again, you do you. Instead, I prefer a solid, "Look, I trapped this man like Britain wanted to trap us!" caption, because Instagram is for fun and giggles. Here are 14 captions for the Fourth that are much better than that last one I gave you.
1. "Red, white, and boo."
I love a pun, because a pun can be terrible and it will still get Instagram likes. Puns are harmless, unlike fireworks. Use puns with abandon, and use fireworks with caution.
2. "Celebrating freedom except from this one."
Because you are in a relationship, get it? As long as your partner isn't too sensitive, I quite like this level of partner-deprecation.
3. "Independence Day with my dependent."
Pairs nicely with a photo of you and your ball-and-chain.
4. "Independence Bae."
Fair warning: You won't be the only one with this Insta caption.
5. "Not independent from this Brit."
Very specific to a particular demographic: those of you with British partners.
6. "Apologetically American."
For that photo of you and your cutie in the sand, or sipping a beer. This caption also works if you are celebrating the Fourth in Europe, or pretty much any other country.
7. "Remember when I pretty much started a revolution to get your number?"
To accompany that photo of you looking lovingly at your partner, who is perhaps grimace-squinting in the sun, or looking otherwise disinterested. (We all know they love you!)
8. "Star-spangled hammered."
For the solidly drunk couples pic of you drinking vodka out of a watermelon-keg situation. I mean, it is a holiday.
9. "Lady Lit-berty."
Whether you are talking about yourself or your girlfriend, this is another way to lightly shade your partner for how many Bud Lights they drank in the name of America.
10. "Four score and seven beers ago, I met this cutie on this beach."
Insert whichever locale you'd like at the end of this caption, but if you happened to meet your partner once upon a time on the Fourth of July, this makes for a nice little throwback. (And still mentions beer! Because America!)
11. "Which one of us is the firework in this relationship?"
For a fun poll of your followers — you can't get offended either way, because fireworks are both beautiful and annoying!
12. "Let freedom ring."
Did you just get engaged on the Fourth of July? This is your caption now. I love how nonchalant yet clever this is, you badass. Oh, and congratulations!
13. "Thank God it's [insert day of the week]!!!"
This one's for the couple who can't make it to the beach when the Fourth of July falls on a day during the week. Oh, the struggle is so real. Ideally, you're standing on a hot city sidewalk or doing your laundry.
14. "Declaring it official."
This is for the brand new couple whose first 'Gram happens to be born on the Fourth of July.
15. "Because fireworks make for terrible content."
Every Fourth of July, without fail, I try to capture the majestic fireworks I can see in front of my face on video or in a photograph, and it never seems to work. I should know this by now. Labeling your semi-obnoxiously cute couples photo with this disclaimer is guaranteed to get you some likes.