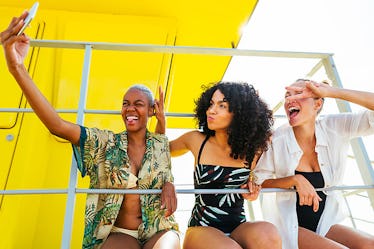 15 Best Things About Summer That You Need To Be Reminded Of Right Now
Even if summer isn't your favorite season, you have to give it major props for all of the dope activities that come along with it. Aside from the sun being on its best and brightest behavior, there are so many things that only feel right during this time of year. You're used to the season coming and going within the blink of an eye, which makes it easy to overlook the best things about summer.
Lucky for you, I've compiled an entire list of things you probably still do or have slightly forgotten about. Maybe you've lost touch with how yummy those two scoops of chocolate ice cream taste on the pier at sunset, or how picturesque a pinstripe swimsuit is against the ocean. Either way, you need to be reminded of the little gems that truly make summer the grandest time of year. Seriously though, why can't summer be a year-round season? I'm sure spring, winter, and fall would understand.
Aside from the activities we can participate in, summer naturally makes you feel so relaxed and optimistic. Looking out the window only to find the sun shining back at you is super uplifting, and it makes you want to conquer the world. Summer is where it's at, and these 15 things are solid proof it seriously rocks.