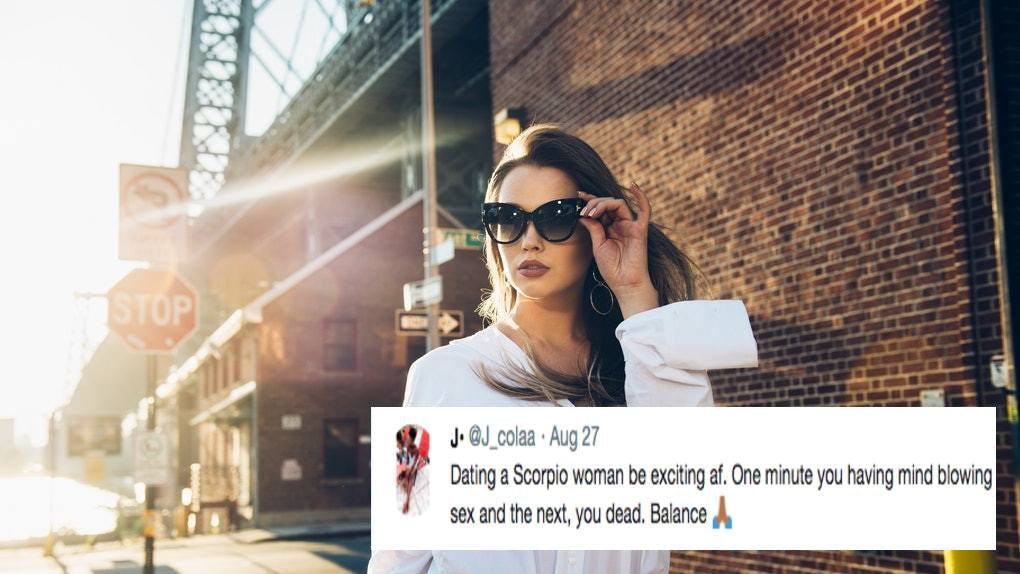 Shutterstock; @J_colaa/Twitter
14 Tweets About Dating A Scorpio That Capture All The Complexity Of This Sign
Is dating a Scorpio easy? No, not always. But the best things in life don't tend to be easy. As a Scorpio, I can attest that people born between Oct. 23 and Nov. 22 are known for being a little jealous, a bit sensitive, and just a touch dramatic. Those born under the sign of Scorpio also have a reputation for being loyal AF, full of passion, and incredible in bed. Scorpios are complicated, and dating one can be a wild ride — at least, according to these hilarious tweets about dating a Scorpio, which capture all the good, the bad, and the ugly parts about wooing this water sign.
Scorpios get a bum rap on Twitter, and I don't really understand why. I mean, just because I overanalyze everything and hold grudges until the end of time doesn't mean I'm difficult to date. If anything, I keep life exciting (as long as you're down with secrecy and moodiness). Despite a Scorpio's more difficult tendencies, this sign truly does make for a committed and compassionate partner if you're willing to take the time to earn their trust. Whether you're up for the challenge or not, these tweets might help you understand what dating a Scorpio is like.
They May Lead You On At First
They Go From 0 To 100 Without Warning
They're Cautious When Approaching New Relationships
They're A Little Inconsistent
They Struggle To Keep Their Impulses In Check
They Know Just How To Keep Things Interesting
They're Always DTF
They Love To Take The Reins
They Won't Let You Hide Anything From Them
They Seriously Know Everything
They're Great Listeners
They're Full Of Love
They Don't Always Do Well When They Date Each Other
But They Are Simply Irresistible
If you're not sure whether you can handle a Scorpio, go ahead and give it a shot. Even if the relationship doesn't work out, life with a Scorpio will certainly never be boring.