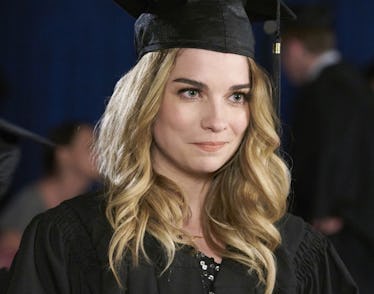 14 'Schitt's Creek'-Inspired Grad Party Ideas, So You "Remember The Experience"
Pop TV
Oh Schitt, you just graduated. Now is the time to celebrate, and what better way to do it than with your fave family, the Roses? Throw on your fave wig and turn up "A Little Bit Alexis," because it's time to start planning your celebration with some Schitt's Creek-inspired graduation party ideas. Just like Alexis, wherever you're off to next, you're really loving this journey for yourself. Before you move on to the next chapter, party it up with your best friends and family.
Since Schitt's Creek is your fave show and it helped you laugh through your final semester, you need to have a party inspired by it all. Make over your space so it looks like the Rosebud Motel or Mutt's barn during Moira's birthday party, and serve up some dishes tastier than what you'd find at Café Tropical. If you're 21 and up, you could even have some of that Herb Ertlinger Fruit Wine. You'll definitely "remember the experience" with the right party plans in place, so get inspired with these 14 Schitt's Creek-themed graduation party ideas that are "simply the best." From the decor to the party favors and even the snack menu, the Rose family has got you covered. All you need to do is toss your cap, dance it out, and say, "Yay," because you did it.
We only include products that have been independently selected by Elite Daily's editorial team. However, we may receive a portion of sales if you purchase a product through a link in this article.