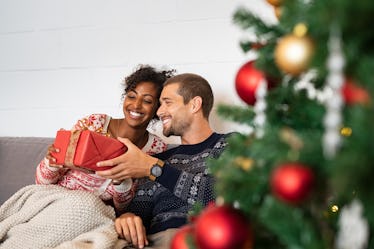 14 Holiday Gifts Under $25 That Your Partner's Guaranteed To Love
Shutterstock
While you may love to splurge on a luxe watch or fancy speaker for that special someone, the truth is, you're on a tight budget. And you know what? Just because you can't ball out for your boo this year doesn't mean you can't find something they'll adore. In fact, to prove that point, I rounded up a handful of gifts under $25 to buy your partner for Christmas, Hanukkah, and Kwanzaa.
Let's not forget that the holiday season is not about spending lots of money to try and impress your loved ones, either. It's about simply giving for the sake of showing them how much you care about them, and you truly can't put a price tag on that. As they say, it's the thought that counts — and by giving some serious consideration to your significant other's hobbies, passions, needs, and goals, you can find something that they'll not only actually use, but that they'll fully appreciate. Ask yourself: how do they spend their free time lately? What have they been dying to get better at? What's one thing that seems to make them smile, even on their worst days?
So, with all of that in mind, here are some affordable gift options that appeal to a wide range of interests.