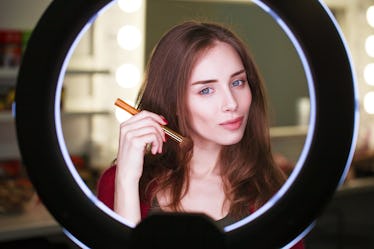 For Flawless Makeup & Selfies, You Need One Of These Highly Rated Ring Lights
Shutterstock
Anyone who's done their makeup under the sickly pallor of fluorescent bathroom lights knows that it's not ideal for perfecting coverage. There's a reason backstage dressing rooms are known for their mirror game, and a ring light lets you bring the same universally gorgeous lighting into your home (or handbag). The best ring lights for makeup let you work with different lighting temperatures just like the professionals do, resulting in flawless looks.
The Must-Haves
Adjustable Lighting: Having the ability to dial your brightness up or down and control color tones will ensure a flawless makeup application at any time of day. All of the options below are fully dimmable and deliver at least three color temperatures (warm light, natural light, and cool light) thanks to a mix of yellow and white LED bulbs.
A Stand or Tripod: For applying makeup while sitting at a countertop or vanity, you need a way to secure your ring light at the right height: A stand or short tripod will do the trick. While a taller, adjustable tripod is probably not necessary for doing makeup, if you think you might want to eventually branch out into vlogging or streaming, investing a little extra in a ring light with a more versatile tripod will both serve you now and save you money in the long run.
Compatibility: If you want to take selfies or stream video, double check to make sure that your ring light will work with your phone. Most are compatible with smartphones, and some even have the option to mount larger cameras if that's what you prefer.
The Nice-To-Haves
Portable models: A clip-on model goes anywhere you do, so it's a great "gateway light" if you want to try the concept out, and it makes a great add-on to a more intensive setup. If you don't want something taking up space in your bag, a lighted phone case makes a great space-saving alternative.
I've worked as a makeup artist and in front of the camera — so I know the value of good lighting. These are the ring lights for makeup I would recommend to artists and vloggers at every skill level.
We only recommend products we love and that we think you will, too. We may receive a portion of sales from products purchased from this article, which was written by our Commerce team.