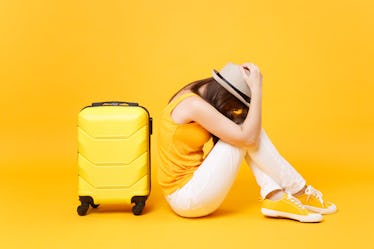 13 Real Struggles Every Traveler Deals With Getting To Their Destination
When the wanderlust is calling, you can't wait to hop on a plane or jump in the car and travel to beautiful destinations. Of course, it looks fab on your Instagram when you document the trip, but what people aren't seeing are the struggles every traveler deals with getting to their destination. I mean, can we just talk about how stressful it is navigating endless lines of security at the airport? Don't even get me started on stuffing your carry-on in the overhead compartment on a packed plane, and sitting next to a seatmate who's a total armrest hog (#selfish). Sure, some journeys can be incredible, but there are always a few bumps along the way.
As annoying as these 13 struggles are, they happen to the best of us. You likely have a few tips for dealing with some of them by now. That's not going to stop the inevitable squirming in your seat to find a comfy position to sleep in, but at least you know to not let it get you down. And when you finally do make it to your destination, the Insta-worthy sights you'll see will soon have you forgetting all of those hurdles you went through along the way to get there.