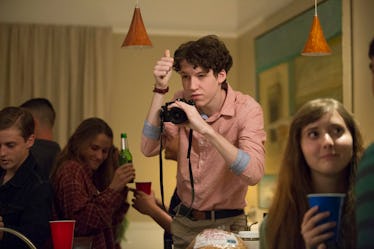 Tyler From '13 Reasons Why' Hints At A Terrifying Season 2 Spoiler
Beth Dubber/Netflix
Now that it's officially been one year since 13 Reasons Why first premiered on Netflix, fans are desperate to know when Season 2 will drop. Netflix has yet to confirm an official release date, so naturally, fans of the teen drama are busy searching for clues about when they'll reunite with their favorite Liberty High students — and what the students will be up to when we see them again. Devin Druid, who plays Tyler, dropped a few hints about where Season 2 will pick up, and if fans are to trust these 13 Reasons Why Season 2 Tyler spoilers, things aren't looking great for the angsty high school students. Remember that major Season 1 cliffhanger? Well, according to Tyler, that's about to be explained.
In the finale, it was revealed that Tyler — Hannah's stalker and one of the reasons Hannah took her own life — bought a gun and had a huge stash of ammunition in his home. He had also created a photo line-up of classmates who bullied him once he was revealed as Hannah's stalker, leading many to believe that he was going to murder his classmates as revenge. Could Tyler be planning a school shooting? According to Druid, Tyler's backstory will be explained more in Season 2, and his story line is a "logical step" from what fans saw in the first season. He told The Hollywood Reporter:
This is a really logical step for this character to go toward. I definitely think there's more of a story to tell. That helps dive into a bigger conversation of mental illness and bullying and harassment and how a person can react when they're pushed to the end of their rope.
Based on Druid's statement, it seems like 13 Reasons Why will engage with the timely issue of gun violence and school shootings in Season 2. It's admirable that Netflix and 13 Reasons Why are trying to talk about a difficult topic, especially in a show that is aimed directly at teens and young adults, and it will be interesting to see how the show handles the multi-layered discussion around gun violence, mental illness, and bullying.
If you're still doubting that 13 Reasons Why is going to tackle the gun debate, Miles Heizer's comments may convince you. At the Love, Simon premiere, Heizer, who plays Alex in the Netflix series, promised Us Weekly that Season 2 is going to be "very relevant:"
I think [the taboo topics] are kind of in the same amount as the first season. We're just talking about real issues that people don't talk about that much, but I feel like are actually talking about more, especially right now in our culture. I think this season's gonna be very relevant. I'm excited for it to come out and for people to see what's going on.
Is there anything more relevant to high school students right now than the fight to end gun violence?
If 13 Reasons Why does end up depicting a school shooting and its aftermath, it would not be the first show to do so. Shows like Buffy the Vampire Slayer, Glee, and One Tree Hill have also tackled the difficult topic, but there's no denying that this kind of story will resonate more now than ever before. It's easy to turn good intentions into a heavy-handed, insensitive story line, but if anyone is able to approach the topic of school shootings with empathy, it's the people over at Netflix, so I'm confident that 13 Reasons Why Season 2 will succeed.
Netflix is implementing some big changes in Season 2 to make 13 Reasons Why less controversial, including adding a video message from cast members warning that the material is incredibly intense and promoting a resource website, 13reasonswhy.info. Clearly, Netflix and the 13 Reasons Why creators are trying to be more sensitive this time around and did not take the criticism that the show glamorized suicide and self-harm lightly.
No matter what happens in Season 2, it's great to see that Netflix and the 13 Reasons Why team are approaching the new season with plenty of care and consideration.