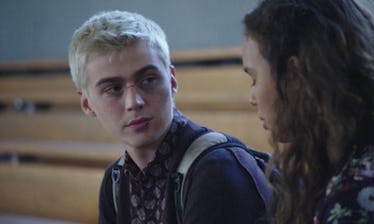 Alex From '13 Reasons Why' Spilled Major Deets About Season 2 & We're So Ready
Netflix
The second season of Netflix's immensely popular 13 Reasons Why doesn't even have a release date yet, but fans have been buzzing about what's to come for the series since last year. There are still so many mysteries surrounding its future: Will Bryce be reported? What's the state of the lawsuit? Is Alex OK? The cast and producers have slowly been spilling 13 Reasons Why spoilers about Alex, Hannah, Clay and company. Hopefully, some of the cliffhangers eating away at the eager audience will be resolved.
While we might call many of the characters on 13 Reasons Why complicated or layered — most of them appear to have have deeply personal struggles that aren't necessarily seen from the surface — Alex Standall's story was a standout and definitely left viewers wondering about his fate. The last scenes of Season 1 revealed he been shot and was currently in critical condition. It was widely believed that Alex attempted suicide, but there's also the theory that points to Tyler as being responsible.
Miles Heizer, who plays Alex on the teen drama, spoke to The Hollywood Reporter about how the show hinted at his character's struggle: "It was interesting to see similarities between Alex and Hannah, because there are a lot of warning signs throughout the season... That's another subject that's very rarely shown onscreen and is probably a lot more common than people think it is. People attempting to take their lives and it not happening, I'm sure that will bring a crazy set of issues. It would be interesting to go into that." If you're not familiar with the show, it explores the events leading up to a high school student's (Hannah Baker) suicide, as well as the aftermath of her passing.
So, what should we expect in Season 2? Heizer recently opened up to Us Weekly about what the next chapter will tackle:
I think [the taboo topics] are kind of in the same amount as the first season. We're just talking about real issues that people don't talk about that much, but I feel like are actually talking about more, especially right now in our culture. I think this season's gonna be very relevant. I'm excited for it to come out and for people to see what's going on.
13 Reasons Why has touched on topics like suicide, bullying, and sexual assault, and its depiction was not without controversy.
"I've never been a part of something that is dealing with a topic that is not talked about very often, especially in a mainstream high school setting. It's ironic because it's something that is going on there all the time," Heizer additionally stated. "We're one of few shows that have portrayed it in a real way, showing teenagers talking how they actually talk and talking about issues that they are dealing with. We all felt a responsibility to make it relatable, to convey a positive message and let kids know this stuff is not OK and that we need to talk about it, so people can get help and talk to each other about these serious issues."
As for Miles' Alex, we will meet his mom in the second season — the "hardworking nurse" is set to be played by Meredith Monroe. Perhaps we'll gain even further insight into what the teen is grappling with after getting to know his family as well.
And although Hannah is no longer alive, her story is far from over, even if Katherine Langford has promised "a different" side of her to come. Hannah's life and death may have been at the center of last season, but it looks like Season 2 will go even deeper into the minds and realities of the supporting characters who made up her world.