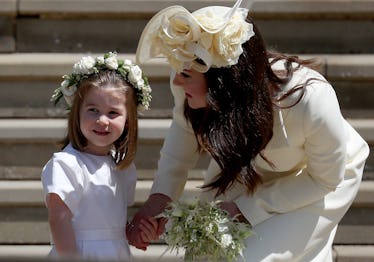 13 Of Princess Charlotte's Cutest Moments That Will Have You Sobbing
WPA Pool/Getty Images Entertainment/Getty Images
Following the April 23 birth of Prince William and Kate Middleton's third child, Prince Louis, their one and only daughter made history. It was announced that the royal tot, Princess Charlotte, would sustain her No. 4 slot in the line of succession, making her the first female of the family to surpass a male heir for the crown. A feminist icon before the age of four. Impressive! And while her future will inevitably include serious monarchy business (whatever that means), for now, Princess Charlotte's cutest moments prove she's much more focused on bossing around Prince George and sassing the press.
According to People, Duchess Kate Middleton opened up to a fellow mom about her daughter's "feisty side." At Queen Elizabeth's 90th birthday, attendee Glynis Double told reporters that, "[Middleton] said, 'Oh, [Charlotte] is very cute but she has got quite the feisty side!' I then asked her about George and she said he was a really lovely little boy. She said she hopes that George will keep Charlotte in order!" In recent months, the public's seen more and more of that fiery personality. Charlotte was photographed at her uncle Prince Harry's May 19 royal wedding sticking her tongue out. A few week's later, she was caught telling paparazzi "you're not coming" to her little brother's christening. A death stare followed, of course. Sounds like a future queen to me.
Here are 13 times Princess Charlotte was so cute, you'll want to sob over tea and crumpets.
1. When She Was Hyped About Being A Big Sister
While on the way to meet her new little brother, Charlotte greeted photographers with a sweet wave and a skip in her step. According to a source for Us Weekly, the 3-year-old princess "is really enjoying a younger brother to play with. She's taking her big sister duties seriously. She won't leave baby Louis' side."
2. When She Channeled Her Uncle On His Wedding Day
She's certainly her Uncle's niece. As she arrived at Prince Harry's May 19 nuptials, Princess Charlotte stuck her tongue out at waiting paps. A move the groom no doubt respected, as it used to be his go-to joke.
3. When She Very Literally Stopped To Smell The Flowers
Princess Charlotte took a break from her royal responsibilities during a 2017 tour in Poland to very literally stop and smell the flowers.
4. When The Birthday Girl Cuddled Up With Her Little Brother
The Kensington Palace official Instagram account shared a sweet snapshot in honor of Princess Charlotte's third birthday. "‪The Duke and Duchess would like to thank members of the public for their kind messages following the birth of Prince Louis, and for Princess Charlotte's third birthday," the post read.
5. When She Was So Ready For Takeoff
"Can the pilot please get this thing going? I have an afternoon tea appointment with the Queen!"
6. When She Had A Royal Meltdown
She was not in the mood. While traveling with her royal 'rents and big bro, Prince George, Princess Charlotte had a major meltdown. After a scolding from mum, she threw herself on the ground.
7. When She Was The Most Protective Little Sister
It's a no from the princess. In July 2018, Princess Charlotte informed photographers they weren't allowed at her little brother's christening. "You're not coming," she announced, while holding tightly to her father and fixing her eyes on the press.
8. When She Was The Cutest Snow Bunny, Ever
In 2016, the Duke and Duchess took their brood to the French Alps for a four-day private trip. At just 10 months old, Princess Charlotte was bundled up in an all white snow suit and pink accessories while snuggling up to her dad. Cue the "awwws."
9. When She Wore The Perfect First Day Of School Outfit
As if I'd expect anything less of her, Kate Middleton's mini-me sported the chicest outfit on her first day of nursery school. If it's wrong to take style inspiration from a 3-year-old, I don't want to be right.
10. When She Was Less Than Impressed At The Trooping The Colour 2017
While big brother, Prince George was all smiles at the 2017 Trooping of Colour, Princess Charlotte was not having it.
11. When She Looked Exactly Like Her Great-Grandmother, The Queen
In May 2017, the internet went nuts over Princess Charlotte's uncanny resemblance to Queen Elizabeth, and since then, she's only continued to have matching moments with the monarch. Like great-grandmother, like great-granddaughter?
12. When She Was Down To Take The Helicopter For A Spin
"I could fly this thing with my eyes shut."
13. When She Was Prepping For Her Bridesmaid Duties
Kate Middleton gave her little bridesmaid some direction as she geared up for her duties in auntie Pippa Middleton's 2017 wedding. "I'm wearing the heck out of this flower crown." *Hair flip*