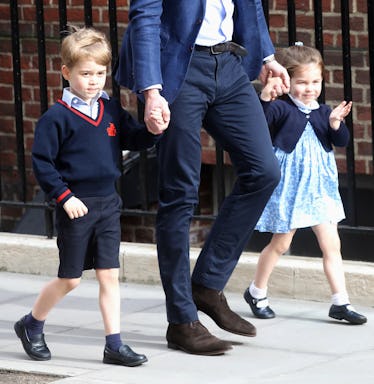 13 Of Prince George's Cutest Moments That Will Make Your Heart Grow 10 Sizes
Chris Jackson/Getty Images Entertainment/Getty Images
Prince George is by all accounts your typical 5-year-old, busy antagonizing his little sister, writing to Santa Claus (for his very own police car, of course), and playing with his royal dog, Lupo. And while yes, the tot is third in line for the throne and has the whole future King thing to look forward to, for now, he's just a kid. A kid with adorable pre-bedtime run-ins with President Obama and an estimated $3.6 billion net worth, but a kid no less. If there's one thing he's learned from royal 'rents, or his smoking hot uncle Harry, it's how to work a camera. Because Prince George's cutest moments are bound to make your heart grow 10 sizes.
A day before his July 22 birthday, Kensington Palace shared George's official 5th birthday portrait on Twitter, writing:
The Duke and Duchess of Cambridge are very pleased to share a new photograph of Prince George to mark His Royal Highness's fifth birthday tomorrow.
The snapshot, which included the prince grinning ear-to-ear, got me thinking. With 365 days in a year, and a seemingly endless supply of cuteness, one celebratory picture just won't suffice. Here are 13 times Prince George couldn't have been more adorable.
1. When He Matched Prince William — 33 Years Later
Like father, like son. Prince George was spotted at his baby brother's christening in a nearly identical look to the one Prince William sported at Prince Harry's 1984 christening. It wasn't the first time the pair has coordinated style, and I sure hope it's not the last.
2. When His Cousin Put Him In His Place
Savannah Phillips, the granddaughter of Princess Anne, was fed up with her cousin George and his rendition of the national anthem at the Trooping of Colour. Look at those eyes. She means business.
3. When He *Pretended* To Be Caught Off-Guard
"Oh shucks, you want a picture of me?" I see right through you, George.
4. When Bedtime's At 8, But The President Stops By At 7:30
President Barack Obama shook hands with a pajama-clad Prince George while at Kensington Palace for his official visit in 2016. "Last week Prince George showed up to our meeting in his bath robe. That was a slap in the face. A clear breach of protocol," the president later joked at the White House Correspondents' dinner.
5. When He Gave Paparazzi A Wave And A Smile
Dressed in his signature shorts and knee-high socks, the little royal gave paps an excited wave. "No doubt this will make next month's issue of Vogue UK," he said, probably.
6. When He Was Deep In Thought
Prince George held on tightly to Prince William's hand as he contemplated vanilla versus chocolate ice cream.
7. When He Was Just As Excited About The Royal Wedding As All Of Us
"What do you think of Aunt Meghan's off-the-shoulder Givenchy number, dad?"
8. When He Was A Typical Brother
On the way to meet their new baby brother, Prince Louis, Princess Charlotte gave bystanders a sweet wave, while George looked less than thrilled by the activity. He was even caught on camera flicking his little sister. Typical sibling shenanigans.
9. When He Was Really Excited To Be In Australia
At 9 months old, Prince George accompanied his Duke and Duchess parents on their royal tour down under. He seemed pretty thrilled about it.
10. When He Was Pumped About The Window Seat
...but also, not thrilled about the jetlag.
11. When He Was Hyped About Christmas
According to Prince William, George had only one special Christmas request this year: his own police car. Really hoping Santa Claus and the gang delivered.
12. When He Was Stressed About His First Day Of School
Royals! They're just like us! A timid looking Prince George strolled hand-in-hand with his dad and new teacher on the first day of school.
13. When He Played Pilot
"Don't worry Dad, I totally know how to fly this thing."
Cheers to another year of Prince George sass.