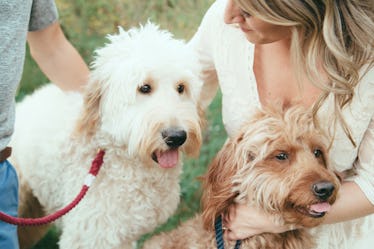 13 Group Photos Of Labradoodles That Are Literally #SquadGoals
Fluffy dogs — they truly make the world such a better place. They can jump all over you, give you an immense amount of wet kisses, and beg for extra treats at your feet (and you'll obviously give them more). No matter how mischievous they may be, you'll always love them endlessly. They also give the best cuddles ever, because there's just so much of them to smoosh your face into. Labradoodles are incredibly sweet fluffs — and just looking at pictures of them will show you why. If you don't have one of your own at home, group photos of labradoodles will certainly brighten up your day.
As you may already know, a labradoodle is a cross between a labrador retriever and a poodle. They're pretty high energy and they have such cute faces. They're known by their super curly, sometimes thought of as shaggy, coat that is so soft you just want to snuggle with them all day long. Their wavy, curly locks and floppy ears make your heart melt, and the long tail of a labradoodle makes wagging it such an event. Even cat people can come to the consensus that these pups are lovable creatures who are super photogenic.