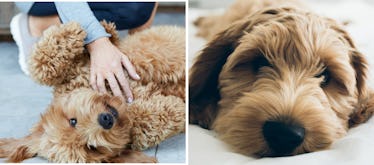 10 Pictures Of Labradoodles That'll Bring Oodles Of Cuteness To Your Day
No matter how cheery of a person you might be, sometimes, things just don't go your way. You may miss the bus, step in a giant puddle, break a heel on the way to work, or sleep through your alarm. Other times, you just wake up in a horrid mood. We're only human, and these things happen to the best of us. Luckily, there's something out there that's always guaranteed to put a smile on your face. Even on the gloomiest of days, we always have dogs. A smiling, excitable pup is truly the sunshine on a cloudy day — most especially if that pup is a cuddly ball of joy, just like these pictures of labradoodles.
I'm convinced that labradoodles are the teddy bears of dogs. They're so soft and cuddly that you want to pet them all day long, and they're so gentle-hearted and loving that they'll let you. There's nothing like a dog to level your emotions. Seriously, if a smiling, adorable, happy labradoodle can't cheer you up, I'm not sure what will. Needless to say, if you're having one of those awful, nothing's-going-right-for-me kind of days, here are a few furry friends to brighten it up. These 10 goofy pups are the perfect remedy to have you smiling in just about no time.