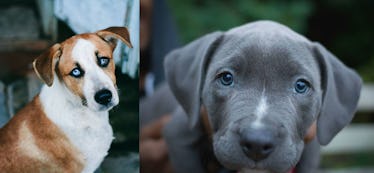 10 Pictures Of Dogs With Blue Eyes That'll Melt Hearts Left & Right
We can all agree that dogs are the most adorable creatures on the planet — am I right, or am I right? These four-legged furry friends are dubbed man's best friend for a reason. They are loyal AF, and all we want to do is just cuddle with them all day long. From their floppy ears to their wagging tails, it's no wonder they make our hearts instantly melt. If I'm being honest though, my fave part about dogs is their eyes. They truly are the window to their soul, and we can't look away — especially when we see pictures of dogs with blue eyes.
In my opinion, there is nothing more beautiful than a puppy with icy blue spectacles. These dogs don't even need to beg for anything, because we are already handing over all the treats we have. I don't know about you, but all I want to do is give a big hug to these 10 absurdly adorable pups with blue eyes. Not to diss other dogs, because they're all pawsitively sweet, but these blue-eyed fur babies will surely give you all the feels. After seeing all of them for yourself, you'll surely be saying, "Eye woof you, too."