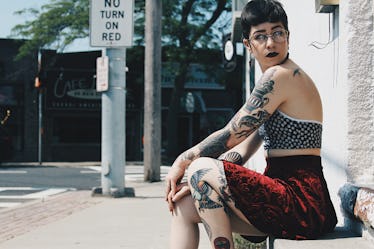 13 Cute Friday The 13th Tattoos To Get With Friends That You Won't End Up Regretting
There's a Friday the 13th that falls in the spookiest month of them all, and for some, that means do something unforgettable. Getting inked on a Friday the 13th in October is a chance to get in on some killer deals, too. Getting Friday the 13th tattoos with your friends is a like a badge saying you conquered the creepiest day of the year, aside from Halloween.
Deals for this very occasion happen all over the United States. It's spooky for it to fall in October, which is why tattoo parlors see it as an opportunity to fulfill people's urge to get something creepy, at a fraction of the haunting price. These Friday the 13th tattoo deals vary, though, so doing some research, if the deals are what you're after, is important to do before you head out. Some parlors limit the list of options to designs that are Halloween-related.
No matter what you and your friends are into, you'll make an unforgettable memory if you all get a tattoo on Friday the 13th. And while the day ultimately has to see its end, your group tattoo will always be proof that you spent your Friday the 13th diligently and wisely. So, whether you want to get inked with a Friday the 13th memory, or just reap the benefits of a killer deal, these people are already a few steps ahead of you.