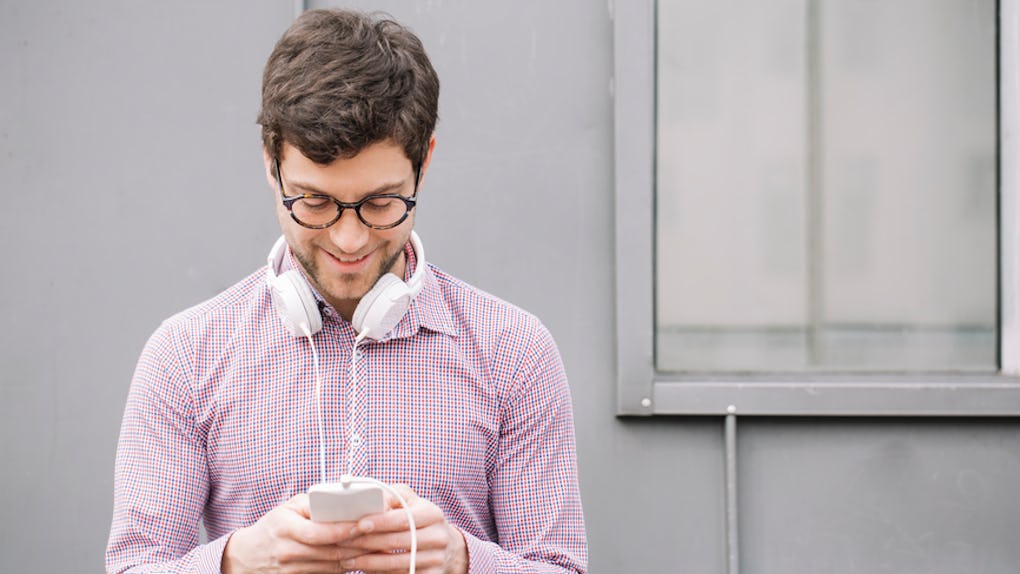 Alberto Bogo/Stocksy
13 Clever Sexts To Send The Witty Hookup Buddy In Your Life
OK, so I have to confess: I'm not really into sexting. No judgment — if two consenting adults want to text dirty 'til their fingers come off, I am here for it. I just mean it's not for me. There is one exception though: when it's funny sexting. Nothing turns me on more than laughing. If you can make me laugh, you can probably get me into bed. Straight up dirty talk gives me the heebie jeebies, so you better have some clever sexts to send me if you want me to reciprocate.
I know I can't be alone. Even if it's just to break the ice before you get into the the really freaky stuff, having something naughty but witty is great way to get the ball rolling. Especially if your hookup buddy is pretty witty themselves. I've found the funnier people are, the more likely it is that humor is what turns them on, too. So you probably should have some witty sexts ready for the next time you want to get down and digital with them. Thanks to memes, gifs, emojis and your camera, you've got a whole funny bone(zone) arsenal literally at your finger tips.
Here are 13 ideas to get your naughty lady brains started.
1. Offer Them A Sexy Trade
So you wanna see the D, but you don't want to send them any blackmail material of your own? Offer them a trade instead. Nic Cage picks for his dick pics. It's just crazy enough to work. Plus, let's face it, most dudes are dying to give their D the close up they (often mistakenly) think it deserves.
2. When In Doubt, Make It Weird
Ever been mid-sext, things are getting hot and heavy, and your mind goes blank? Lean in. Go weird and absurd by hitting them with the "arms spaghetti." It never fails to work. Oh wait, no, I had that backwards. It never works to fail.
3. Make Them An Offer They Can't Refuse
Ready to take all this textual chemistry offline? Bust out this sensual number and watch them melt. Hubba hubba.
4. Send Them Sexy Photos Of You In Bed
It's late at night and you're chatting with your FWB and both of you know what's up. Show 'em what you're working with — but with zero mood lighting. Hawt.
5. Speak The True Language Of Love: Emoji
Oh, those poor suckers that came before us and had to rely on words. Thankfully we now have little cartoons to properly express our true desires.
6. Dirty Mind Gone Blank? That's A Problem — A Math Problem That Is
And you thought you'd never use math in real life. This is why STEM education is important, folks!
7. No One Can Resist A Little Sexy Murder Talk, Right?
Oh, so they say they like a girl who has a dark side? Hold my beer.
8. Show Them What A Sex Monster You Are
If they say they want a lady in the streets and a freak in the sheets, let them know you definitely can go beast mode in the boudoir. But like, a literal beast. Of the sea... I'm talking about a kraken. Yeah, unleash the beast.
9. Not Sure What To Say? Send Them Your Sex Tape Instead
Hey, if it worked for Kim K., what could possibly go wrong?
10. Nothing Is Steamier Than Shower Snaps
Oh yeah, just look at how wet it is. All that water. Mmmhmmm, It's like a faucet.
11. Blow Their Mind In Less Than 12 Parsecs (That's A Star Wars Joke)
Not sure how to talk dirty, and maybe the usual euphemism creep you out (same!)? Well then, how about borrowing some language from their favorite fandom? Blow their minds (and their pants off) with some sweet obscure and dirty jokes about their favorite movie.
12. When In Doubt, Send 'Em A P Pic
Bonus points for shaved. Hey, they asked for it, right?
13. Go For A Classic: A Photo Of You Touching Yourself — Literally
Don't be afraid to give them what they really want: pics of you touching yourself. Ask for direction and give them what they want, literally.
Are you as turned on as I am right now? Yes folks. Now this is how you sext.
Check out the entire Gen Why series and other videos on Facebook and the Bustle app across Apple TV, Roku, and Amazon Fire TV.
Check out the "Best of Elite Daily" stream in the Bustle App for more stories just like this!