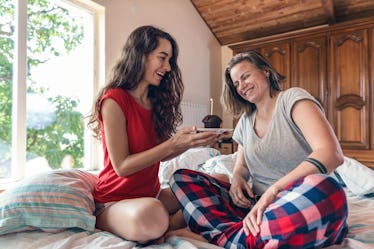 13 Birthday Gifts For Your Sagittarius Partner That Are The G.O.A.T.
Mixmike/E+/Getty Images
It's Sagittarius season, and if there's a freedom-loving archer in your life, chances are you're very much on the hunt for the perfect birthday gifts for your Sagittarius partner right about now. The search can be a bit tricky, as Sag tends to not be very concerned with material things. They're all about having life experiences rather than accumulating objects, so the key is to find gifts that go well with and celebrate their adventurous lifestyle. Sagittarius also has a very spiritual side. They have an open mind and want to explore the inner depths of the world around them.
Ultimately the best gifts for Sagittarius encourages them to just be themselves as they are. Oftentimes, they can feel as though people in their life try to tame or change them, so nothing feels as good to Sag as a partner who embraces who they are and encourages them to follow their bliss. With that in mind, here are some birthday gifts your favorite Sag will be thrilled to receive.
We only include products that have been independently selected by Elite Daily's editorial team. However, we may receive a portion of sales if you purchase a product through a link in this article.