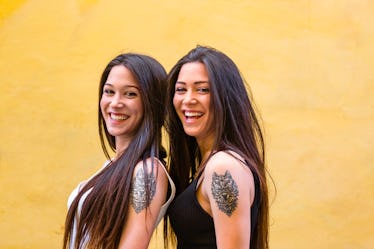 13 Best Friend Tattoos To Get Senior Year So You'll Always Be Connected
Senior year of college certainly has its moments, the good and the bad. The good being the fact that you're going on to another exciting, new chapter in life, finally putting your degree to use. The bad includes all of your final projects and saying goodbye to a place you've called home for the past four or so years. It's a bit heartbreaking, even before you think about how all of your friends are parting ways. However, an easy way to keep all of you close when apart is to start thinking of some best friend tattoos to get senior year.
Of course, there are a lot of things to consider before getting a tattoo. It's important to keep in mind all of the things that make your relationship so special, and you may draw inspiration for a design that way. Like anything else, friendships in all phases need hard work and communication to flourish. And if you'll be long-distance from your college besties after graduation, you'll always have your sweet tattoo to remind you of your beautiful bond.
If you and your besties have been toying with the idea of tattoos throughout college, but have yet to get one together, senior year is the perfect time. It will always be a reminder of the fun times you've shared and all the great memories you have yet to make in addition to your amazing text convos that will be active for many days, weeks, and years to come.