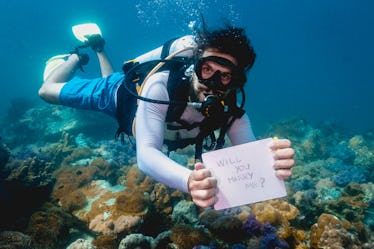 Here Are 12 Of The Most Cringeworthy Wedding Proposals That Went Terribly Wrong
I am not the most traditionally romantic person. In fact, I'm probably as far from it as you can get. Candles, poems, loves songs, and rom-coms all turn me a particularly sickly shade of green. The cheese of it all is just too much. But even I, dead inside as I may be, have occasional stray thoughts about what my preferred marriage proposal would be like. In my mind, it would be something simple, maybe surrounded by friends, with minimal opportunity for things to go awry— because, oh boy, there are some wedding proposals that went terribly wrong out there. Seriously wrong. Don't believe me? Google it.
While I don't personally want to be a part of a proposal fail, I can't get enough of watching them happen to other people. Does that make me a monster? So be it — it's just too funny. I will happily go down a YouTube rabbit hole of proposal fails, looking for new and unique ways they've spun out of control. If, like me, you've spent some time watching them and think you've seen it all, well, you're wrong. It turns out there are even more ways for a proposal to go badly, as I learned on Reddit. A Redditor asked folks there, "Have you witnessed a terrible marriage proposal?" And the answer was an emphatic yes. Brace yourself, because the the cringe level of these stories is off the charts.