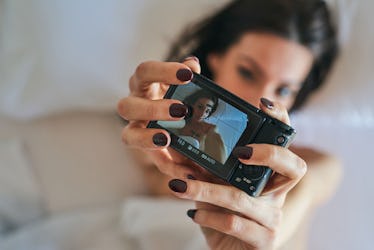 12 Tweets About Sexting That Will Remind You How Satisfying (& Awkward) It Can Be
Chances are, if you're an adult living in this day and age, then you've either participated in sexting or you know people who have. It's basically like the modern day version of phone sex, except you don't actually have to talk to anyone. But over the years, sexting has gained somewhat of a bad reputation for a lot of reasons. (Unsolicited d*ck pics, anyone?) However, these tweets about sexting will remind you that sexting is a sensation for a reason. After all, sometimes you just need a little fun, right?
That's exactly what sexting is for a lot of people: fun. There are relatively few strings attached, and you don't even have to see the other person ever if you don't want to. According to LeslieBeth Wish, Ed.D., a licensed psychotherapist, author, and TEDx speaker, there's a reason why sexting is so fun, and it's actually scientific. "When you receive a sext, your brain reacts by activating hormones and other neurochemicals of pleasure such as dopamine," Wish told Elite Daily. "For women, the attachment [the] hormone oxytocin also gets switched on. This hormone, which is crucial to mothers, intensifies feelings of the joys of closeness. When you combine pleasure and closeness, you can get sexual arousal — even from sexting! For men, hormones such as vasopressin intensify their sexual pleasure."
Scientifically, sexting makes total sense, but these tweets prove that there's more to sexting than just science.