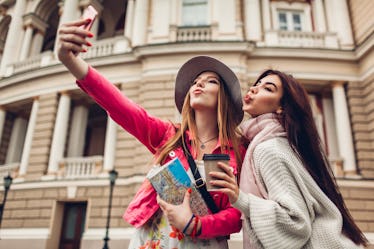 12 Epic Travel Moments You'll Regret Not Sharing With Your Best Friend In Your 20s
When it comes to filling your passport and racking up those airline miles, there's no one else you'd rather have by your side than your best friend. You may already share essentially everything together, from your taste in fashion to your go-to coffee order, but your favorite things are the memories you make. Those special times together are what make you smile on a random Tuesday afternoon, or fill your heart with happiness when looking at #TBTs. What better way to make new memories together than by going on more adventures around the globe? Here are some of the best travel moments to share with your best friend in your 20s.
Now is the time to pack up your suitcase and go to those dreamy bucket list destinations. For two besties with a whole lot of wanderlust, you might as well seize the day and plan a great vacation. Of course, you don't have to check off every single adventure on this list of 12 while you're in your 20s. It's totally OK to pick a few that you know are right up yours and your bestie's alley.
It's all about setting a course and heading there, so text your BFF right away and let her know where you'd love to go next. Adventure is waiting, and you and your best friend can't wait to tackle it together.