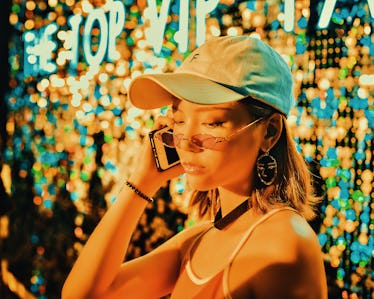 12 Things Millennials Explain To Their Parents, Because We're Hilariously Misunderstood
It's not a stretch to say that many times, millennials are hilariously misunderstood by their parents. From trends and style, to priorities and technology — when compared to your parents, your adult lives couldn't be more different. Of course, you don't expect Mom and Dad to know everything there is to know about Facebook, Instagram, or Snapchat off the bat. But let's be honest: It's hilarious when they totally misunderstand a reference you use or text you send them. That long list of things millennials explain to their parents sort of helps bridge the gap of generational misunderstanding (and also makes for epic stories).
As a millennial myself, I think it's pretty easy for our parents to misunderstand some of the things we've become accustomed to. (For example, why leaving your phone at home is a huge party foul, or what the point of a Bitmoji is.) It's just the times, and if millennials didn't make use of the tools, apps, and gadgets of the present, there wouldn't be anything to build on for the future.
Giving your parents the 4-1-1 is comical and educational, and that's why you don't mind explaining these 12 things to them. (You can thank me for the laughs later.)