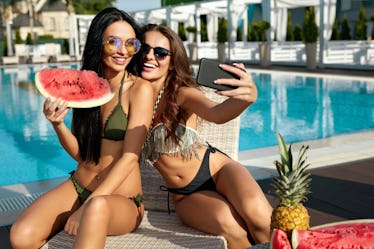 These 12 Summer Props Are Just What You Need To Make Waves On Your Instagram
Summer is the perfect time to upgrade your Instagram feed. The sun in shining, and the weather is finally on point to rock your favorite sundresses and overalls. With all of your rooftop plans, beach days, road trips, and camping weekends up ahead, it gives you plenty of opportunities to snap pics for the 'Gram. In addition to poolside selfies and plandids of your sunshine-filled adventures, you can stock up on some of these summer props for Instagram pics to spice things up.
With the right attention to detail, your Instagram feed will get a major upgrade this season. And it's not only about snapping the most epic Instagrams, either. By being equipped with the right summer props, you'll be encouraged to round up your friends, get outside, and have even more fun than you did last year.
You know that feeling when you need to snap a selfie, because you're really loving the outfit or shade of lipstick you're wearing. Well, just imagine that feeling all summer long when you're having a picnic in the park with your friends or laying by the pool on a Sunday afternoon. Any of these 12 summer props will guarantee to give you a summer you'll never forget, and you'll have the photographic evidence to accomplish just that.