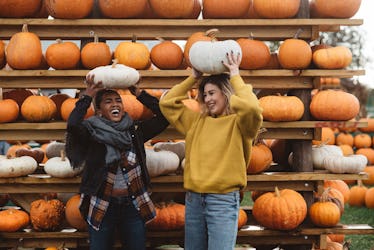 12 Spooky Date Night Ideas To Do With Your Best Friend, Because She's Your Main Boo
If there's one ghoul you should spend Halloween with, it's your best friend. After all, she knows you like the back of her hand, and she's likely been your partner in crime since day one. Everything is better when you're together, and you've got memories to last a lifetime. With Halloween right around the corner, it's definitely time to get into the spooky spirit of things. You've been waiting all year for Halloween to roll around, and there are so many unique ways to celebrate it together. Here are some spooky date night ideas to do with your best friend, because let's be honest: There's no denying that she's your main boo.
I think we can all agree that Halloween is one of the best holidays around. What other time of the year do you get to dress up as anything you want and eat unlimited candy corn? When else would you agree to getting creeped out in a haunted house? Halloween is definitely a treat for the girls who love horror movies, haunted hayrides, and all things spooky. Needless to say, it's time to grab your boo and get started on this date night bucket list as soon as possible.