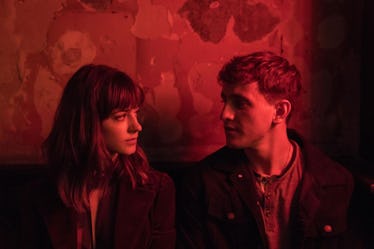 12 TV Shows To Watch On Date Night When You Want To Turn Up The Heat
If you and your boo are having a date night in, you'll probably prep by setting ~the mood~. Maybe you'll dress up, even though you'll be at home. You'll dim the lights and break out the nice candles, order from the takeout place that's slightly more expensive and bougie than the one you normally order from, and pop open the bottle of wine you've been saving since Christmas. And the same way a suggestive Spotify playlist or lacy lingerie can be the icing on the sensual cake, so can watching a sexy TV show with your partner.
The game plan is simple: Snuggle up to your boo and hit play on one of the following TV shows. Whether it takes you three episodes or 30 minutes, you'll come up on a moment that makes you feel hot and bothered. Where you decide to take your date night from there is all up to you both.
In your quest for hot TV shows, you'll find plenty of delicious options below. From dramas about sordid affairs in our nation's capital, to a gritty mystery with blistering sex scenes, to raunchy British royals — whichever show you chose, prepare to feel extra flushed.