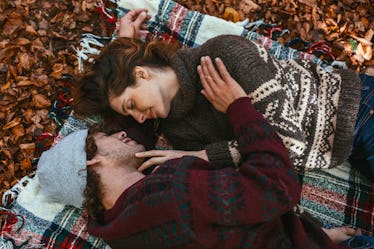 The Hottest Place For You To Hook Up This Fall, Based On Your Zodiac Sign
When you think of fall, you might think of pumpkin pie, falling leaves, and finally getting to wear your leather jacket. And whether you're in a relationship or single and lookin' to mingle, this change of season also offers a ton of fun places to hook up during fall, trust me! If you're coupled up, sometimes a change of location is all you need to pumpkin spice things up in the bedroom. And if you're hooking up with a new parter on a fun date, why not go a step further and try something really new, guided by your zodiac sign?
I think summer gets the credit for being the sexiest season, what with all the exposed skin, tans, and heat, but I think fall has a strong case to make. The cooler weather makes you want to be cozy, cuddle up, and stay warm, and fall fashion is full of earth tones, leathers, and sweaters you just want to nuzzle into. Your zodiac sign not only affects your personality, traits, and tendencies, it also affects your sexuality. Certain signs are bolder and freer with sex, while others approach intimacy with more reservation and emotion. Read on below to find out where your sign might just love to get some love this fall.