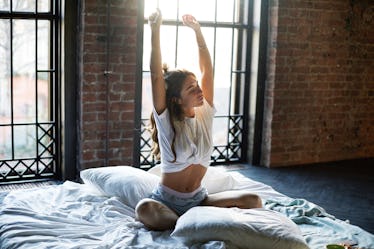 12 Morning Stretch Videos That Will Totally Kickstart Your Day
ShutterStock
Waking up first thing in the morning can be a bit of a struggle some days. You might feel tempted to press the snooze button a few times, but you know you need to get up and start your day. One way to get going is by doing some morning stretch videos on YouTube. It's a simple and easy way to get those muscles warmed up so that you're able to take on the day like a boss.
Depending on whether you have ample time or only 10 minutes to spare in the morning, there are a bunch of stretch tutorials that are fit for your schedule. For some of these videos, you don't even have to leave your bed. It definitely helps to narrow down which morning stretch to try if you have a goal in mind. A simple go-to goal could be to get a quick energy boost, but you can also choose to stretch to increase your flexibility or embrace a relaxing mindset as you prepare to tackle the day.
Who knows, you might even become a morning person who says goodbye to your snooze button altogether. In fact, you might start trading in that snooze button you adore for pressing the play button on a morning stretch video from now on.