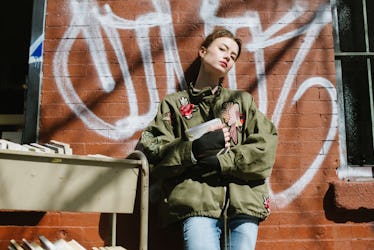 If Your Significant Other Is A Bookworm, These 12 Holiday Gift Ideas Are Amazing
Lauren Naefe, Stocksy
If you have someone in your life who loves to read, you may be unsure what to get them for the holidays. It can be hard to keep track of what they've read, what they haven't, and what's next in their mind. They read so often that you don't even know which best-seller to get them next, since they may have already read it. Well, this 2018 holiday gift ideas for people who love to read can serve as a proper guide for you and what to get for that person in your life.
Gifts for bookworms don't have to just be books; they can also be gifts that will set the tone for their reading environment. While your partner may be just fine reading on a train, bus, or plane, maybe they also enjoy setting up a reading little sanctuary in their home, surrounded by candles and blankets to really get into the story. Or maybe they love hopping on over to their favorite coffee shop to get lost in their latest read, but need something to hold the book and their keys, phone, and wallet, too. Don't worry, I have you covered. Read on for gift ideas for that huge bookworm in your life.
For the book reader who isn't big on dog-earing their paperbacks or hardcovers, a sturdy bookmark will do the trick. If they always lose bookmarks, or are always using receipts or old paper to keep their page, gift them this set of three bookmarks with book-inspired phrases on top.
While some book lovers value holding a printed book in their hands, some desire the efficiency of having an e-book, which allows them to have all of their books in the palm of their hands. The Kindle has Wi-Fi, a glare-free screen, and books below $3.
If your gift recipient is into non-fiction, this new release from Michelle Obama is absolutely going to be of their interest. It's ridiculously popular, already selling over two million copies in its first month.
The Book of the Month Club is exactly what it sounds like. Each month, the recipient receives one book selected by curators from the company. Gift your SO three months, six months, or 12 months for $44.99, $79.99, or $149.99 respectively.
If your person loves reading, they might be itching to write, too. This portable typewriter is perfect for writing anywhere, anytime. And who knows? The next book you read may be your friend's novel that came from this very gift.
This book will be perfect to snuggle up with while it's a snowy day or if you're on the beach together and are feeling rom-com vibes. It's also in the top 30 of Amazon's best-selling books right now.
Your little bookworm pal needs a tote to hold all of their latest reads, so pick up this tote decorated with NYC landmarks to do the trick. It comes with a little zippered pocket inside, too, for them to hold their credit cards, gum, chapstick, or whatever they need to take with them.
What is a good book without a blanket to wrap yourself in while getting lost in the story? Nothing, I tell you. This plush blanket comes in 16 colors to choose from, like yellow, green, blue, and red.
Could your gift recipient not get enough of Peter Kavinsky and Lara Jean Song Covey while watching the Netflix hit? Give them the gift of our favorite high school OTP of the moment with all three novels in one paperback collection.
Just because it's not summer anymore, doesn't mean it can't still smell like rosé. This rosé-scented candle will add the delicious champagne and rose petals scent to the atmosphere as they read their latest book.
If they have talked about needing some inspiration, gift 'em this book which offers advice, anecdotes, and stories from badass women.
Have they been bitten by the travel bug? This book features 5,000 travel ideas across the 50 states in the United States, so you can have all the info you need to plan an epic road trip together.
No matter what you get this bookworm for the holidays, I'm sure they'll appreciate the thought behind getting them a gift they'll appreciate.