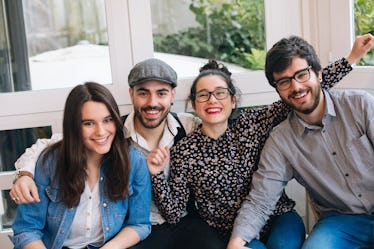 12 Fun Group Date Ideas That'll Help You Get To Know Your SO's Friends
Shutterstock
There are so many milestones that happen during the early stages of a relationship: the first time you hook up, the day you define your couple status, and the moment you debut your new partner on social media, just to name a few. Another major milestone? Meeting your partner's friends. You can learn a lot about someone from the people they hang out with, but planning fun group date ideas where everyone can chill together could be a great way to really bond with your partner's social circle, not just make small talk. It's a way to feel more connected to your partner's life, and also to make some new friends of your own.
It's also a great opportunity to learn more about your partner. Their friends might even mention eccentricities you never knew about, or divulge embarrassing stories from the past. If you're nervous to hang out with them at first, don't stress — your commitment to getting to know them will show them you mean well.
"Trust builds with friends if you make the effort to build your own friendship with them, so that they like you, approve of you, and want you around," Erica Gordon, dating expert and founder of The Babe Report, previously told Elite Daily. And remember that you have a strong connecting point: your mutual appreciation for the person who brought you together.
To ease any tension and get everyone feeling their most comfortable, plan some casual hangs to get to know each other better. Before long, your partner's friends might become your go-to pals, too.