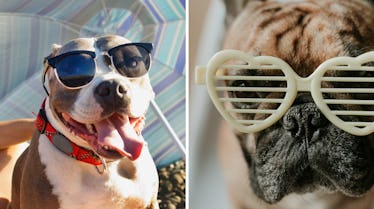 12 Dogs Rockin' Sunnies Who Look So Much Cooler Than All Of Us
One sure pick-me-up on the gloomiest of days is looking at a dog's happy face. Let's be honest, we all enjoy scrolling through pictures of dogs on Instagram and swooning over a friend's snaps of their pup — for hours on end, on the daily. You know how it is. Sometimes you need a little puppy face to spread some sunshine into your life. Or, you know, some dogs in sunglasses, because why not?
I mean, just think about it. There's nothing much cuter than a happy dog enjoying a chill summer afternoon, rockin' a sweet new pair of sunglasses. These dogs truly know they look super fly, and we can all take some serious style pointers from them. Cool and trendy or bold and sassy, you name it. I'm convinced there's nothing cuter than pups with some sunnies.
Instead of searching the 'Gram for some cute new pups or begging your BFF to snap you more pics of her doggo, you've got these 12 adorable furry friends living their best life and looking heckin' good while doing it. Feel free to save for any future bad days, and get ready to swoon over the cuteness overload. We are so ready for some sunny days, and these pups understand us on another level.