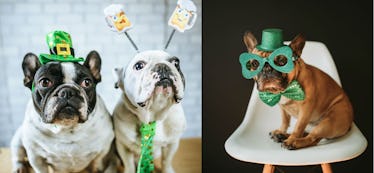 10 Dogs In Their St. Pat's Day Best Who Are Having A Shamrockin' Time
Many of us spend Saint Patrick's Day heading to a local parade, having several cheers with our friend crew, and rockin' green from head to toe. The green memo doesn't have to be solely for us humans, either. Your dog can get into the holiday spirit by wearing something festive as well. In fact, the luck of the Irish must really be true — because I'm feeling oh-so-lucky and blessed to see these photos of dogs dressed up for St. Patrick's Day.
I probably don't even need to raid my closet for a St. Pat's Day outfit, because I'm green with envy of these dog owners who get to dress up their fur babies for the holiday. There's no shame in dressing up your pup in their most dapper outfits to celebrate. I would use any excuse to put on a cute outfit, so you know these dogs are loving the attention. Plus, when you're that adorable, you get extra cuddles and treats — and these 10 dogs in St. Patrick's Day outfits deserve all the love and attention. They could be wearing green just to avoid getting pinched, but when you look that pawsome, you know it's on purpose.
Happy St. Patrick's Day, doggies. I hope you have a shamrockin' good time.