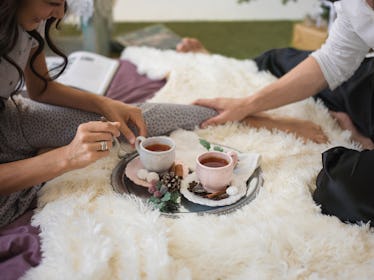 12 Date Ideas For When You're Sick, But Really Don't Want To Miss Date Night
Let me start by saying many of the grown men that I know will literally talk about "having a cold" like it's massive world news. They're two steps from making a Facebook life-event stating, "Has A Cold." I can't count the number of times I've had plans with someone, just to have them cancel because of some dingus "cold." All I can say is, from blanket forts to movie marathons — there are plenty of date ideas for when you're sick.
Of course, I joke. It's super important to take care of yourself and your body. If you're not up for a big night out, there is no shame in the chillin-at-home game, with your boo or with your lovely self. When your body's feeling down, it's important to do fun things by yourself. But when date night falls onto the your sick day, you may wonder how to keep up the fun when your love and your temperature are on the rise.
Whether you have a head cold, a sore throat, the stomach flu, or a chronic illness that keeps you closer to home, there's a bunch of low key ways to spend time with your sweetie that don't include lots of physical activity.