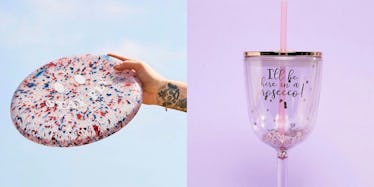 12 Valentine's Day 2021 Gifts Under $20, Because Love Don't Cost A Thing
Urban Outfitters; ASOS
When glam-pop poet, American choreography treasure, and supreme Leo from the block Jennifer Lynn Lopez proclaimed, "Even if you were broke, my love don't cost a thing," I really felt that. Valentine's Day is often seen as the holiday where you have to throw stacks to impress your partner. But I'm here to tell you: That's not necessarily the case! The Internet has loads to offer when it comes Valentine's Day gifts under $20. Whether it's your first or tenth V-Day with your partner, you can def come up with something heartfelt. And no, your wallet doesn't have to weep.
Dealing with limited funds this February doesn't have to stop you from getting your SO an awesome gift. A decadent wine-and-cheese (and-dessert!) night at home or an intimate stroll in the park can still be romantic. Likewise, you can always opt for a DIY Valentine's Day gift for your beloved. For the V-Day cynic who sees Feb. 14 as just another day on the calendar, it's best to opt for practical presents that you know they'll use on the daily. Here are 12 fabulous V-Day gifts you can buy when you're balling on a budget (but still want your boo to feel the love).
1. Switch up their morning coffee game
If your partner can never decide between a cup of Joe or a glass of merlot, then this merlot-infused coffee blend will give them the best of both worlds.
2. Keep their space smelling fresh
This compact essential oil diffuser lets your SO drop in their favorite scent and enjoy the sweet-smelling (yet total subtle) result.
3. List all the ways you love them
This little notebook is the epitome of sugary sweet. On each page, you get to fill in a prompt about what you love about your partner. Buy this gift if you want to watch your sentimental SO's heart burst!
4. Indulge their rowdy side
This hilarious party game challenges players to come up with the funniest text response, and the results are definitely NSFW.
5. Keep their feet toasty
Want to give your SO a gift that's both funny and practical? Get your face printed on a pair of socks for them, which comes in a variety of color options.
6. Give them the gift of good vibes
With its warm amber glow, this Himalayan salt lamp brings the spa experience to your boo by purifying the air, boosting blood flow, and raising energy levels.
7. Make snuggle time all the time
This breathable fleece throw blanket comes in a variety of colors and is sure to become your boo's favorite new accessory around the house.
8. Satisfy their cravings
This cookbook will help you SO make their fave comfort foods, even when they're struggling after a night of overindulgence.
9. Ensure their lips are always kissable
This soothing peppermint lip butter is 100% organic and can 100% guarantee soft, kissable lips whenever you want your sweetie to pucker up.
10. Give them greenery without the responsibility
These adorable little succulents look like the real thing but require zero maintenance.
11. Keep their hands occupied
For SOs who can't sit still, this therapy dough (which is infused with essential oils and modeled after clay used by art therapists) will keep their hands occupied and minds at ease.
12. Give them their smoothest skin yet
Winter can be rough on your partner's skin, but this all natural body butter will keep them feeling silky smooth all season long.
Whether you go for functional, mischievous, thoughtful, or combination of the three, you can find an A+ Valentine's Day gift for your partner without breaking the bank.
Editor's note: This story has been updated for Valentine's Day 2021.
This article was originally published on