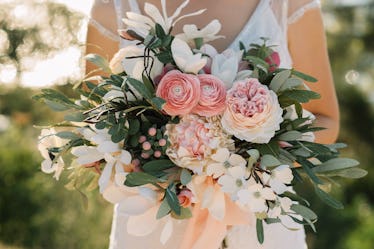 11 Tweets About Wedding Disasters That Will Make You Want To Elope
Weddings are one of the most high-pressure situations — between the cake, the bridal party, the venue, the family, and of course, the animal you're convinced is talented enough to carry a ring down the aisle, there are a million and a half things that can go wrong. Fortunately, you have Twitter to vent to when something goes awry in the planning or execution of the big day. I had a great time sifting through tweets about wedding disasters to find the most entertaining ones to bring to you.
Your wedding is a time to bring all you friends and family together to witness you your declaring love for the person you want to spend the rest of your life with. Fun, right? Except that it's all your friends and family, and you want to prepare something nice (or even perfect) for them. Fortunately, love heals all wounds, and despite the catering-gone-wrong, your wedding can still be one of the most special days of your life. Laughing off disasters can be one of the most effective ways to forget about them, especially when they're outside your control.
Read on to find some hilarious tweets about exactly what disasters can happen at a wedding. Cheers to the happy couple, and cheers to Twitter for delivering these laughs!