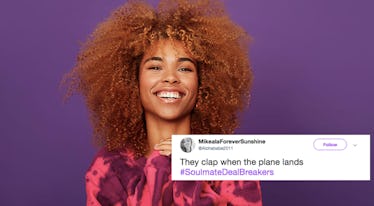 These Tweets About Soulmate Deal-Breakers Will Have You ROFL, Because They Are So Real
Sometimes in life, no matter how much you love something or someone, you discover a deal-breaker that effectively overshadows whatever love you thought you felt. Maybe it's a job you love that doesn't offer paid time off, maybe it's a new apartment that doesn't have a dishwasher, or maybe it's someone you love who you later discover hates coffee or loves Nickelback. At that point, what do you do? Is it make-or-break? Well, looking at these tweets about soulmate deal-breakers will definitely remind you that it's OK to not settle for something you just can't get behind. There is such thing as a deal-breaker, and whatever yours is, don't be afraid to own it. After all, you deserve nothing but exactly what or who you're looking for.
Last week, the hashtag #SoulmateDealbreakers circulated on Twitter — a perfect example of how even though the internet can be a trash place sometimes, it still has the potential to give us something amazing, like a viral video of a dog saying "hi," or Chrissy Teigen in general, for instance. #SoulmateDealbreakers brought out the best of the internet yet again, when people started sharing the deal-breakers that would absolutely not fly for them, no matter how meant-to-be a soulmate seems.
With answers ranging from silly to completely hysterical, people on Twitter have shared what they consider constitutes a soulmate deal-breaker, and it's all you need to make it through your Monday.