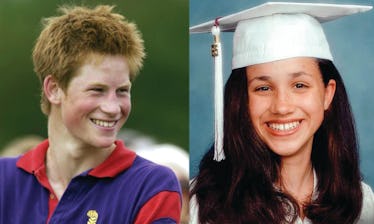 11 Nostalgic Throwback Photos Of Prince Harry & Meghan Markle, Because They're The Cutest
David Hartley/Shutterstock ; meghan_markle on Instagram
There are several celebrity couples that I am completely obsessed with, but there is one in particular that really, should I say, takes the crown — literally. I know, I know, I'm the worst. But let's be honest: 2018 belongs to Prince Harry and Meghan Markle. I mean, how often do we get a real-life fairytale? Honestly, in these dark times, I am feeling the fantasy. What does the future hold for these two love birds? We'll just wait and see. But until then, I'll be going through these throwback photos of Prince Harry and Meghan Markle — and getting nostalgic AF.
If you somehow missed it, here's a little background on their incredible love story. The couple first met in 2016, when they were set up on a blind date by a mutual friend. Their chemistry and connection was instantaneous, and the two agreed to meet up a second time soon after. Harry invited Meghan on a trip to Botswana, and later told the BBC that they "camped out under the stars" and got to know one another. "Then we were really by ourselves, which was crucial to me to make sure that we had a chance to get to know each other," he added. In November 2017, the couple announced that they were officially engaged, and then, in May 2018, they were married in an epic wedding at Windsor Castle watched by tens of millions of people around the world. Like I said, a total fairytale. Can you really blame me for being so obsessed with them?
But even before they were a couple, these two were doing amazing things — things that would shape them into the people that would one day make such an incredible match. So, let's take a stroll down ol' memory lane and feel all the feels. One warning, however: Some of these Prince Harry pics are going to make you thirsty AF — and Meghan ain't too shabby, either. Enjoy!