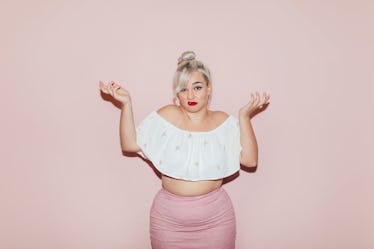 11 Petty Things That Still Bother Us In Our 20s, Even Though We're Grown-Ups
Sh*t bothers us — that's just life. In a perfect world, the things that used to bother you before you were legally allowed to drink or rent a car, would cease to exist once you settled into adulting. It's highly unlikely, and those select few things that are known to get you annoyed, unfortunately still will — no matter how old you get. The things that still bother you in your 20s are most likely relatable AF. Big or small, when something bothers you, you are feeling annoyed or disappointed (or a combo of the two), and just can't seem to shake it. Maybe you can't stop thinking about it or it seriously gets under your skin. Either way, you don't ever look forward to experiencing the things that bother you.
Many times, the things that irk you are from other people and their actions. And as much as no one should be able to manipulate your emotions, it's Hurricane Get Out Of My Way when these bothersome things occur. Who knows, maybe you'll get over them eventually. For now, those annoying things in the past are making a comeback in your 20s, so you can stop pretending that you're not upset.